This review on Monster Musume no Oishasan contains spoilers. If you haven't seen the chapters, we recommend that you do so and then go back to read the review.
Monster Musume no Oishasan - Chapter 6: The Harpy That Doesn't Fly
Glenn has the opportunity to see Illy and find out how her condition has changed since his last visit. All thanks to a deal that Tisalia was in because Illy wanted to speak to her. During the review, although Illy loses some feathers, she has no disease, it is a simple change of feathers. Result that does not convince her, because it is the first time that she cannot fly due to the spring change. Get mad at Glenn and run away from him.
Tisalia follows her to speak to her, after all, it was part of the deal. Then she hears that Illy wants to be a gladiator like her. However, Tisalia knows this is just an excuse and tests him to see if he has what it takes to take on the clashes at the Coliseum.
Glenn, looking for something to help Illy, ends up discovering something very interesting. With the help of Tisalia and Sapphee, she collects Illy's feathers and they look for them to tell her about their discovery. Since Illy has phoenix blood, changing the pen is more complicated. Because they are now growing their adult feathers.
Restless girl
Although it had already appeared and was mentioned previous episodesIlly just made her official debut Monster Musume no Oishasan - Chapter 6. What I have to confess will be my favorite heroine. Both aesthetically and as his personality and even his voice.
Her personality with rough touches, but she is ashamed of certain subjects like any other girl. I think she was created as an orphan. She herself chose a way of "protecting herself". Growing up in the slums and learning to fight by nature, but not by taste. So I feel like Illy is acting with a mostly personality Tomboybut with its feminine touches. A personality that I love about his combination.
Aesthetically, I like it completely, although it's not as lush as other heroines, but I like it more that way. I also always had a thing for red hair. So from one moment to the next she became my favorite heroine. Of course, it's too early to see this as potential waifu, both of Monster Musume no Oishasan like anime in general.
His voice is responsible for that seiyuu Sayumi suzushirowho also includes characters like: Uruka Tekemoto ((Bokutachi wa Benkyou ga Dekinai), Akira Oono ((Highscore girls), Kei Shirogane ((Kaguya-sama: love is war), wise ((Tsuujou Kougeki ga Zentai Kougeki by Ni-kai Kougeki no Okaasan wa Suki Desu ka?), among other.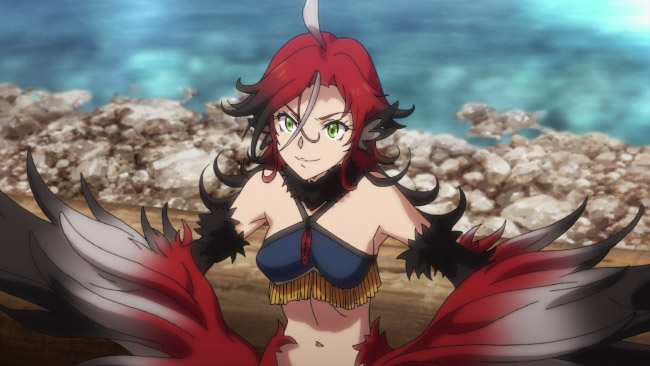 Deep in the story and characters
I sincerely think about it Monster Musume no Oishasan - Chapter 6 was the episode that had the greatest depth so far. Both in the characters and in the story. Though more than anything in the characters, not just Illy, who was the one who starred in this arc. Tisalia, Glenn and a little sapphee also had their moment.
Illy without a doubt and as I expected was the biggest evolution in her character, but compared to the evolution other characters have had so far I think she is above Kunai and even Lulala. Because it divides or brings together both of the deficiencies of both. Regarding the troubles she had when she was young, just like Lulala, although not sure where she belongs as a kunai.
The mention of Phoenix Blood, however, was a rather strange fact Monster Musume no Oishasan - Chapter 6. Well, even within monsters, the phoenix is ​​considered a "legendary monster". As far as I can imagine there will be other special cases involving "legendary monsters", maybe one is dealing with Skadi. Although the latter is just my guess.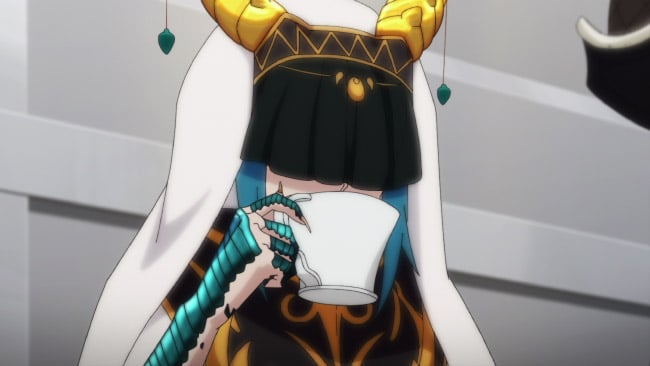 As I mentioned earlier, other characters like Tisalia also had their moments when the character evolved. Though Tisalia has had a development in her character every time she shows up, like in her confrontation with the ex-mercenaries and now with her conversation with Illy. That's why I felt that Monster Musume no Oishasan - Chapter 6 has more depth in the story than other episodes, whether in lesser or greater amounts, due to the large number of moments other characters have developed.
Among these characters is the same Cthulhy, of which she did not have such an interesting moment outside of the cameos she had, although she only appeared on the screen for a few seconds.
Cthulhy's voice comes from the seiyuu Yukanawho worked on other characters like: Ai Nanasaki ((Amagami SS), Eriko Nanao ((Dragon crisis!), Teletha testarossa ((Full metal panic!), Fuyumi Irusu ((Hyouka), Cecilia Alcott ((Infinite Stratos), Etc.
Details on Monster Musume no Oishasan - Chapter 6
Animation of Monster Musume no Oishasan It was something that got me on a roller coaster ride between highs and lows of quality. Fortunately, they're not as pronounced as in other anime. The studio responsible for animation is Arvo animation, a relatively new studio that has removed the two seasons of Bokutachi wa Benkyou ga Dekinai and be OVAas well as a ON ONE before all that.
I still remember when the first season of Bokutachi wa Benkyou ga DekinaiI loved the animation in the opening and the first episode. However, I was a little disappointed because I didn't show the potential in the chapters that they showed at the beginning. Of course, it wasn't a bad animation, far from it. In its second season the quality decreased and stayed in the range between good and decent / acceptable.
But now in Monster Musume no Oishasan The road in terms of quality is full of ups and downs. To have a pretty good overall quality, with the detail that in my opinion the quality of the fluidity of the movement is poor. For example in Monster Musume no Oishasan - Chapter 6, when Tisalia, Glenn, and Sapphee walk in the direction to meet Illy. I can say they tried to show "natural" movement for Tisalia and Sapphee because they were supposed to move as monsters. However, Tisalia seems quite unnatural to me as it only moves from the waist down. His entire "human" part is immobile. They looked like they had split it into two parts while animating and only one part was moved.
Maybe I'm exaggerating, but I really feel that the quality of the motion animation will stay the same. Something I personally don't like. Something I can understand from the situation the world is still going through.
.