This review on Uzaki-chan wa Asobitai! The final chapter contains spoilers. If you haven't seen the chapters, we recommend that you do so and then go back to read the review.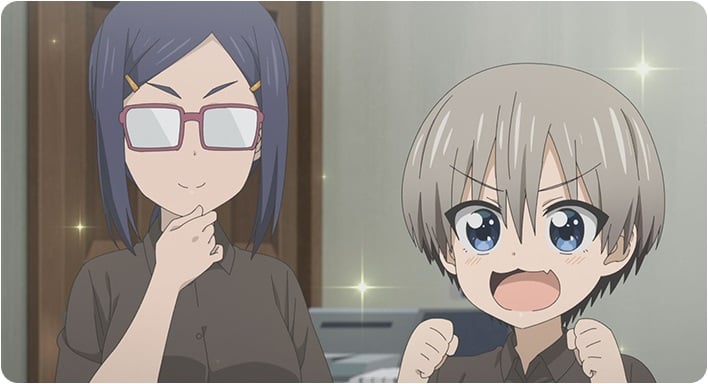 Uzaki-chan wa Asobitai! - Final chapter: Uzaki-chan wants to hang out a lot more!
Uzaki can no longer spend time having fun with Sakurai as he again failed to complete his report that was given to him as his summer homework. Even though Sakurai took care of her first, she knows perfectly well that she is like that. Afterwards, while they were in the cafe, the manager's back is jerked so that Sakurai takes him to the chiropractor while Uzaki and Mai close down in the cafe. Mai takes the opportunity and asks Hana how she met Sakurai, back to her high school days and her first impression of him. However, Mai accidentally steps into a land mine by telling Uzaki that her speech will be different when Sakurai is around. Something that interrupts the conversation with Uzaki's escape.
Uzaki asks the manager, Itsuhito, and Mai how Sakurai was drunk, taking advantage of the fact that Senpai was resting that day. Mai and her father have never seen him in this condition, but Itsuhito has. Let her speak to know how, in revenge for seeing her in this situation, she got on the most vulnerable side of her senpai. Uzaki uses all the advice Itsuhito has given him to achieve his goal of getting Sakurai drunk, but Sakurai's honesty in this state makes Uzaki decide to start drinking as well.
The next day they are both in a special mood because when they woke up they both shared futons and neither remembers what happened the night before. Though sharing futons resulted in Mai and her father paying much more attention to the situation and looking for more details. Although they don't get the results you want.
Details of Uzaki-chan wa Asobitai! - Final chapter
This time and different than previous episodesI'll use a single section to talk about what happened in Uzaki-chan wa Asobitai! - Final chapter. Well, I want to give my general opinion on the whole season Uzaki-chan wa Asobitai! in the following segments.
Back to that chapter, I have to admit that part of me already knew the reason Uzaki couldn't spend more time having fun SenpaiHowever, I feel a bit betrayed in hopes that it was more than that reason. Uzaki hadn't finished his report on the summer vacation, nothing else. At least he hoped he mentioned that his mother would forbid him from wasting his time until he was done. Though it still doesn't compare to the drama the story might have had in another anime.
The next in the episode and what I think is the main focus of Uzaki Sakurai wanting to get drunk in revenge. Something that worked and it was interesting to see Sakurai's character in that state. Of course, his "honesty" was the biggest influence, especially on Uzaki. Who wouldn't let him finish before she started drinking too? They both get drunk and share the futon without even realizing it. Something I guess Itsuhito did.
Although it's not the first time they sleep together. So I would have loved to see more of the action when they woke up and saw each other. I honestly would have been happy if either character had a short film Flashback was ashamed of what happened to Mai and Itsuhito on the trip to the beach.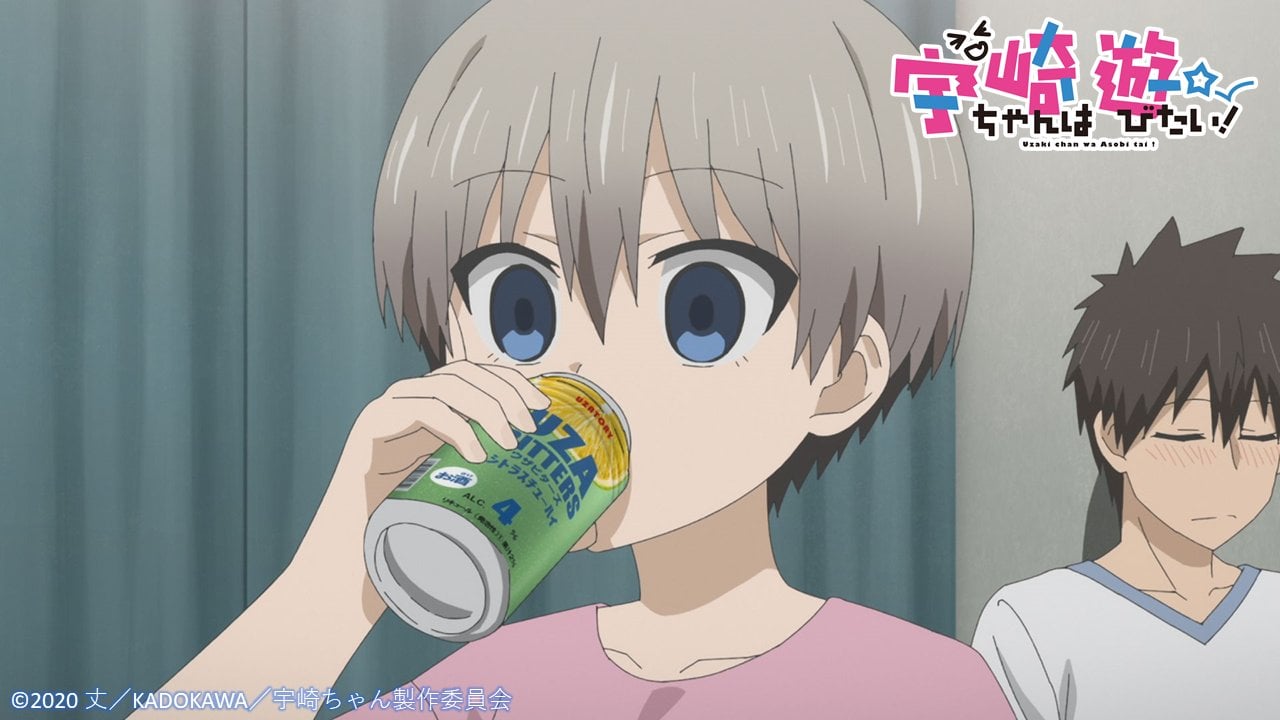 By the way, I would have liked to have seen a little more of Sakurai's 'honest' side if I'd been drunk. It literally had very little screen time. Long enough to get Uzaki to misinterpret his words by not hearing the entire sentence. But I won't deny that I had a void waiting for him to talk on more general topics and not just focus on Hana. For example, that they had a "normal conversation" before Uzaki began his interrogation. Just to check that the box was in good shape.
Finally, two important points. The first, I envy the way the manager pulled away from his withdrawn. During the second, I liked Uzaki's girlfriend in high school, and she did it even more than she seemed to show details that she met Yuri.
The plot and character development
First of all, and while it's obvious that it's an anime with romance, the main plot is from Uzaki-chan wa Asobitai! You can't see who confesses first. The plot is that Uzaki wants to have fun with his Senpai. Something I've met in customization in general. However, I can't deny that I feel like that interesting touch was missing to reveal more romantic moments. For example, that one of the two protagonists was aware of their feelings for the other, so they tried to use their moments together to learn more about the other, or even looking for a moment to confess before the Completion she achieved. . Although graduation was still a little way off.
So personally I wouldn't add the gender of romance as a main, but as a side or even as an extra in the anime. Well, while there are moments that show a possible future relationship between the two, they're not the core of this anime. Mainly focuses on the genre of comedy. Because of this, I would particularly distinguish it from one Romantic comedy to a simple one comedy, with its romantic touches very occasional but not so constant as to bring them together.
As for the development of the characters, I think none of them had development as such. Mainly because I think because there was a lack of drama on the show, there weren't many situations in which the characters could develop. For example, in the test of courage (back to the beach excursion with Itsuhito and Mai), Sakurai demonstrated her fear of the dark and the problems associated with it.
What if things were a little different? I mean, he maintained his fear of the dark and decided to look for Uzaki in the forest after they broke up because of their calamity. Contrary to what really happened in that scene, I think Sakurai's character would have developed that way, in addition to the fact that their relationship would have developed a little further. To name just one case.
Ultimately, Uzaki was the one who developed his character the most, but he had him early in the anime and made the decision to spend more time with his lonely senpai, even though they weren't that close together in high school. She went from a simple acquaintance with Sakurai to the main cause of his anger, all on the weird side. But on the romantic side, I think there hasn't been a decent development. With the aim that she will recognize his feelings or 'seduce' Sakurai. At least this first season.
All other characters stayed almost the same or exactly the same as in their first appearance in Uzaki-chan wa Asobitai! Itsuhito had a few moments to shine. Mai continued with her preferences all the time, as did her father. I really would have liked to see a development in Mai or Itshito, at least as the characters closest to the protagonists. Especially a development in May, as it is Sakurai and Itsuhitos Senpai and comes closest to graduation. Show that you have thought about your future, whether you want to inherit coffee or not.
Incidentally, I found it strange that Kiri, Hana's younger brother, showed up. Since he personally would have chosen her to be Hana's younger sister instead, just to attract more. Back to Kiri, just like Tsuki, I can't quite convince her voice. I pictured him in a "mature" voice.
animation
The animation studio for Uzaki-chan wa Asobitai! was the study ENGI. It was relatively new and only counted on the animations from Uzaki-chan wa Asobitai! Y. Hataage! Kemono Michi. Because of this, and given the current situation in the world, I cannot deny that the show was on a tight budget. It may not have been the case and this customization had more budget than I imagine. In this case the animation leaves more to be desired.
While I understand a bit about what the anime industry has been going through over the past few months, the animation was "decent" (if you imagine the budget is low). From time to time there were moments when the characters were a bit deformed or there were some details in the settings. But in general it was acceptable or even good animation, it all depends on the budget.
In my opinion, the various facial expressions in Uzaki-chan wa Asobitai !, of anger, shame, fear, intrigue and of course Uzaki's mocking laugh were best animated. Faial expressions are what you remember most about this animation. Though the character design wasn't bad at all most of the time.
Final opinion
Taking into account all of the above, the qualification I give Uzaki-chan wa Asobitai! is 7/10. I think it had more potential to shine in general, but it's not a bad adaptation of the manga at all. In fact, I feel like it's a little more connected to the original work than I would have liked. Mainly because of the protagonists' slowness in realizing their feelings. I would have loved if this point had a bigger impact on the anime, even if it wasn't too much.
The plot is very comedic and the small evolution of the characters are the most important things that I wish were different from the mangas. Because at some point I had the feeling that there were comic scenes that were just a little forced or simply unnecessary. These moments were not replaced by dramatic ones, but by quieter ones like a Piece of life normal. I would have been happy with that.
At least I know there will be more of Uzaki's jokes and banter in the future as its second season has already been announced. Something I sincerely imagined would happen, other than the absurd controversy it generated, it wasn't a bad adaptation and it seems that its wares have been very well received in general.
In addition, of course, Kiri appears in Uzaki-chan wa Asobitai! - The final chapter was another point that made a second season even more suspicious. Since it was the integration with another member of the Uzaki family. And that he only had one cameo and not his father or younger sister would have completely disappointed me. Now we just have to wait for more details of the second season and continue my hope that the plot of the adaptation of the original work will be separated a little more. Not much or it would lose its essence.
.