The virtual YouTuber joined the agency on November 1st Hololive production, Nanashi Mumei, made a pretty simple transfer. Mumei-chan had announced on Twitter that she had to go to college, so the show would simply be about her occasionally speaking to her followers. The virtual YouTuber also prepared the ASMR-style broadcast. «Mumei is studying! These are the sounds of the studio!He wrote in the description.
https://www.youtube.com/watch?v=Jc-mj8xVKg
The transmission lasted 1 hour and 45 minutes, whereby the model of the Virtual YouTuber was not even shown, only an illustration created for the occasion. The interesting thing is that this broadcast, as simple as it could have been, had a maximum viewership of 11,353 and an average of 10,479, which are pretty impressive numbers. The portal Game board it also recorded a total of 87 donations through SuperChat, totaling 90,963 yen (approximately $ 803).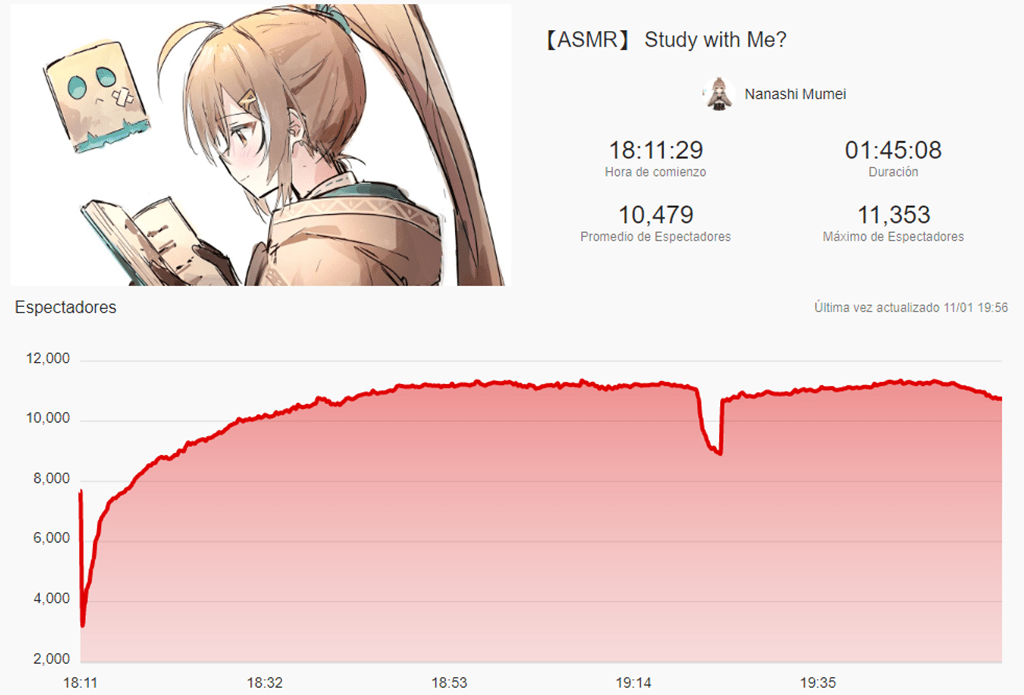 About Nanashi Mumei
She is a virtual YouTuber who, along with Tsukumo Sana, Ceres Fauna, Ouro Kronii and Hakos Baelz, is connected to the second generation of talents from the Hololive English Division, known as the "Hololive Council". It debuted on August 23, 2021, and its design was created by Azure, the same illustrator as Majo no Tabitabi (Wandering Witch: The Journey of Elaina). His profile writes: «Councilor and guardian of "civilization," a concept created by mankind. As a living embodiment of the sum total of mankind's efforts - the traces that man has left on the world - it is far removed from his companions and other forms of life. Since she was not created by the gods, she can choose her own appearance and decided to take on the appearance of an owl, like the bird that symbolizes wisdom.».
Source: HoloStats
© COVER CORPORATION