Warning! This review on Otome Game no Hametsu Flag shika Nai Akuyaku Reijou ni Tensei shiteshimatta ... chapters seven and Eight contains spoilers. If you have not seen the episodes yet, I recommend that go check them out and then come back to read the review.
Episode 7: I entered a dangerous dungeon ...
Hamehura chapters seven begins with a distant memory, a certain young woman has been able to change her life thanks to her faithful friend, but unexpectedly the death separated them leaving A-chan with a deep desire to meet again even in the next life, this is the dream of which wakes up Sophia, still with the heaviness of the feeling that her dream left her, Sophia must present her exams along with the rest, the practical exam consists of exploring a dungeon full of traps. The exploration is going well, although several traps have been activated, however Katarina separates from the group and Sophia cannot avoid the worry, the feelings of her dream are very fresh, she finally manages to find Katarina and since she found the stone with mana They all pass the exam, although a certain shadow lurks in the distance.
Episode 8: I got carried away the desire…
Hamehura Chapter Eight begins with a Katarina concerned about the closeness of exams, unable to focus on studying decides to go to her garden. Study time must be renewed and this time Katarina asks for Mary's help, at the suggestion of the student council president, both go to the library for reference books and on their way they meet the rest who decide to keep them company. Again the study hour is interrupted when everyone, except Mary and Maria, is absorbed into a book that reveals their desires, they finally manage to get out thanks to Katarina's insatiable appetite for sweets. In a post-credit scene we see that Alan is still oblivious to his feelings for Katarina but is getting closer, although it is not something that Mary is going to allow.
My desire to see you again
Chapter seven of Hamehura It shines through an important connection that is revealed to us, because everything points to Sophia being someone very close to Katarina, even before meeting in the world of Fortune Love, through a dream we can contemplate the connection that a young woman named Atsuko created with A happy companion, a connection that feels above all very real. The friendship of both girls led them to share interests and be close to each other, to the point where the way they end up separating by a fortuitous accident becomes tragic, we are rarely worried about this in other Isekais, by those who left behind. Before coming to Fortune Love, Katarina had a life and there were people who cared about her, people who would cry for her asking for another chance to be together, and that's Atsuko.
We can see that Atsuko found true happiness by associating with that happy girl, she was able to get out of her shell and open herself to others, it is not strange that the sudden separation broke her heart and within her a yearning to be reunited with her friend and power spend more time together. This is how great the longing that was finally fulfilled, maybe she does not have the intact memories of Atsuko but Sophia can feel that longing and that connection, at the same time she can also feel the fear of loss, in the dungeon she is the most worried because of In a way, the memory of farewell was revived and it is not a memory that you want repeated. Like Sophia, she now has the means to protect her friend, at least that is how she feels, this time she will not accept that the fortuitous fate separates them again.
A very peculiar examination
The practical exams in Hamehura They are somewhat unique, perhaps it is because of the attribute of magic that exists in the world in which the story unfolds, but we must accept that sending not very well-prepared students to a dungeon full of traps, is not exactly the most responsible decision, anyway Ethical issues aside, in fact the most peculiar thing in this exam has been being able to contemplate the use of magic by the characters, although we already knew the type of magic that each one possesses, we had not witnessed the feats that they could do with it .
Each one had their moment to show off by showing their skills, however I must confess that the visual effects when using magic were very discordant, in plain terms, they were not visually aesthetic, but leaving aside my personal tastes, the Everyone's magic served to complete a certain mission and that's something I found very entertaining, very RPG-style. Of course the jokes fell at a good time, Bakarina being Bakarina is always appreciated to lighten the mood, her earth saving boys of the day was very funny and her rare luck to find the mana stone results in the same, light jokes that take away I weigh in on a tense situation like being in a dungeon with a mysterious shadow lurking.
Bare heart
Chapter eight brought us a classic cliche of school anime, one of the seven mysteries of the academy, in this case it is a book that feeds on your desires, at first glance it seems something that could be enjoyed, after all We talk about fulfilling our desires, however it can also be something shameful, I do not think that many want their hearts to be exposed that way; Knowing the desires of another is a way of knowing what he keeps in his heart and in the end it will be up to each person whether they are ashamed of it or not.
The case of our characters leans towards the first, because although they are all aware of who they direct their affections to, that does not mean that they are all completely open about what they want to do with that person, even what they want to tell them, so The fact that their wishes were exposed resulted in something shameful, for everyone except Alan and Katarina, the first because he is still not fully aware of his feelings and the second because his wishes are general knowledge for all, his love for sweets is not it is nothing new.
Among all the wishes, I must confess that the one that most amused me was Geordo's, to see him activating the ultra instinct is not an everyday thing, Keith's also surprised me a little, it was a very everyday scene but for some reason Seeing him so sadistic seducer made him weird. On the other hand, Sophia's desire gave me tenderness, she just wanted to receive love. Nicol's desire enchanted me, although it makes me think that he identifies himself with the devilish count and is not exactly blind to his charm over others.
Mary's suffering
If chapter seven is taken by Sophia / Atsuko, I I think the eight must belong to Mary and her terrible suffering. The poor I just wanted to spend time alone with Katarina and somehow they all managed get in your way in more ways than one. I mean, the poor thing has enough dealing with their rivals in reality, so that they make contemplate how each of them lived their fantasy with Katarina within the book, I think this time I have to suffer.
At this point we can no longer pretend naivety, it has absolutely already become clear that Mary's feelings towards Bakarina they are not friends, she really loves Katarina romantically. I know that this clarification is of more, but they would be surprised of the amount of people who still want to believe that Mary only sees Katarina as friend and incontinently He has feelings for Alan. But with this chapter it is evident that Mary for whom he has feelings is for Katarina, whom he does not want to give up and with who longs to spend his days is with Bakarina, not with Alan who still follows desperately brainwashing him in the hope that he won't notice his feelings for the chestnut.
Mary's suffering has been great in the latter chapter, although that brought us some good reactions worthy of several memes The only thing that fails me a bit is that Mary's radar seems to fail. a bit, she is the most alert among those who take an interest in Katarina but at Despite the obvious, there is someone who has escaped the radar, it seems that his suffering is still far from over.
Questions to the council student
Straight to the point, I'll leave you here a translation a little rush of the third and fourth installment of the 10 questions to the council student.
"10 questions for the student council: question 3
From good morning to good night, please tell us a few words for these occasions

Geordo:
Look at what time it is, time passes very quickly when I'm with you. I would like to spend more time by your side, being like this, we will see each other within your dreams. Good night Good Night).
Keith:

Still awake? Can't you sleep? So should you do the same thing you were doing for me? I'll hold your hand and sing you a lullaby until you can sleep.
Mary:

Good morning, what should we do today? Being like this, together every morning, is so much fun.
Alan:

Go to sleep, I, this ... I'll be by your side. If you have a scary dream I will wake you up, so sleep. Goodnight.
Sophia:

Good morning, we start a new day, it's exciting, don't you think? Mornings are like the first page of a new story, we have to make an effort.
Nicol:

I see, you can't sleep either, we are the same. Since neither of us can sleep, do we wait for the sunrise, together?
Maria:

Good morning, it's a very pleasant morning, isn't it? Today I made some sandwiches, I will take them to tea time, we have to make an effort today too. "
"10 questions for the student council: question 4
Heal me! Please say something to someone who is tired!

Geordo:
You are tired, right? I will heal you, please don't run away. Catch you.

Keith:
Wow, you look tired. So, I'll give you a massage, let's relax the body. Do you like my massage? What a joy
Mary:
That was exhausting, right? At times like this, it is best to relax. A little tea or an aromatic bath? These are Maru's recommendations. What would you like?
Alan:

You're tired, right? So, I will play you a melody to sleep with the violin, only this time, it is a special case.
Sophia:
It was exhausting, wasn't it? This time you really try hard, right? Don't worry, today rest as much as you want, all the time by your side.

Nicol:
You look tired, at times like this, it is best to take a bath, keeping your body warm helps you sleep better.
Maria:

It looks like you're exhausted doesn't it? In moments like this, eating something sweet is the best. What do you think? Hey? Do you want to eat the ones I make? Ah yes, then, here you go. "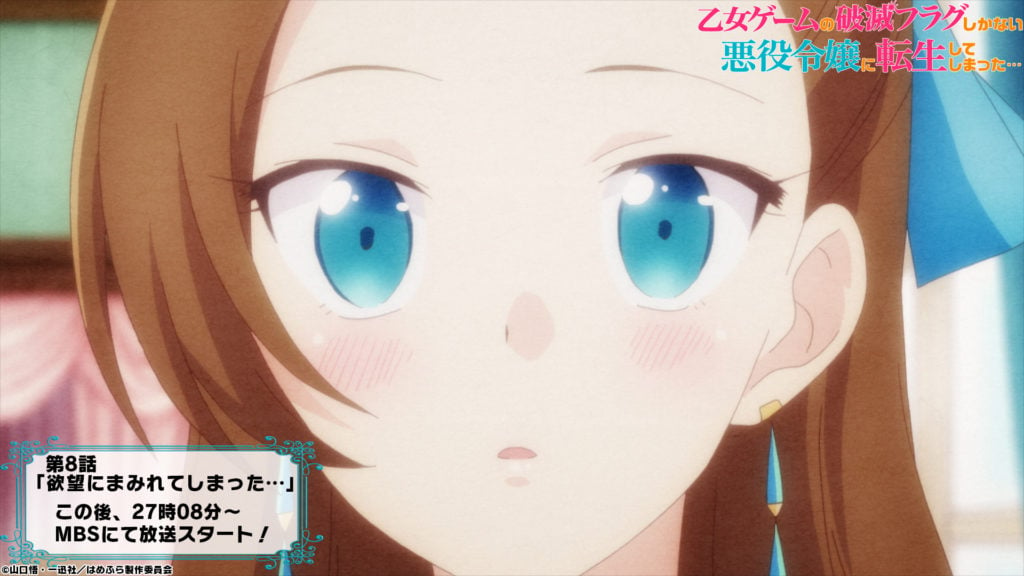 Final comment
Hamehura chapters seven and eight have been episodes a little bit filler, those who follow the manga and the novel would surely describe it, but that doesn't mean they weren't quite entertaining and even emotional. The inclusion of Atsuko's story is something that has made chapter seven a favorite for many, I include myself among them, although I have to admit that he lost a little bit of rhythm in the second half with the exam in the dungeon, but get back to the end. In this same sense, I think that the Chapter eight is the one that could most be considered filler, but since it was so fun overlooks.
Filled or not, I consider that both chapters revealed very important details for the climax of this story, and for this it is necessary to pay attention to sporadic characters such as Sirius, in short I will not give spoilers but at least I can say that they have done well by making it so obvious and discreet in your holdings.
Anyway, this time we are closing this review here, tell me: What do you think of these episodes? What is your opinion about Atsuko and her connection to Sophia, is she another reincarnated or do they just have an ancestral connection? Among the wishes of the Bakarina harem, which was your favorite and why Nicol's? Lie, but seriously, which one did you like the most?
.