Warning! This review on Horimiya Chapter six contains spoilers. If you haven't seen the episode yet, I recommend watching it and then going back to read the review.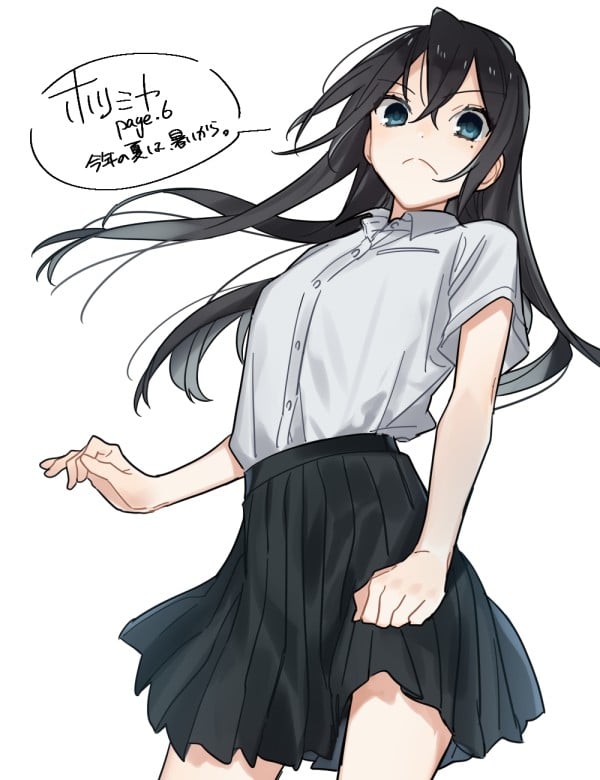 Page 6. This summer will be very hot
Horimiya Chapter six begins with a day together in the Hori house. After Miyamura has been there all afternoon, he is ordered to stay the night. As some students saw them leaving the same house together, rumors about their advertisements quickly spread. Although Hori won't let anything happen, Miyamura decides to make a big change to allay the gossip. Its change in appearance attracts attention and triggers different reactions. Thanks to a competition, Shindou wins a large amount of candy and decides to share it with Miyamura and Hori. A peculiar sweet taste makes Miyamura and Hori share their first kiss. Another big change is the appearance of Sawada, a peculiar Kouhai who proclaims her love for Hori. Although he doesn't get along with Miyamura at first, there are some traces of his older brother in him that Sawada unconsciously follows.
Horimiya, the public and the private
After the relationship between Hori and Miyamura is explained there will be a number of changes and it's great to see how some of them are dealt with in this episode. As the subtitle suggests, a relationship is always divided between public and private, especially in such a complex age as youth. It can be assumed that a couple's affairs are theirs only, that there is nothing public, but that is not the case. Let's not forget that one of the main issues this series addresses is personal image, and as I said, this is built through third party perception. The statements and impressions of others about our partner inevitably influence us and our relationship.
In this case, we can speak of the public part of the "Horimiya" relationship as the gossip that was generated when everyone found out they were a couple. It certainly doesn't concern them and they don't need to comment, but at the age they are at it is inevitable to depend on social opinion. In addition, because of her social position as a "popular girl", Hori is a magnet for opinions. I am not trying to justify the obvious opinions, but it is necessary to know that these are inevitable, just as it was inevitable that they concerned Miyamura. Between the two, he's most prone to self-loathing, but what matters about his affection is that it wasn't because of him, but because of her. Miyamura was looking for a change on the level of Hori and so they stopped talking badly of her, she never did it for him.
The public part was covered with this change in appearance, there were rumors to calm down and they both cemented their image as a couple before anyone else. On the other hand, this episode has brought us great strides in terms of privacy. The first, and perhaps most important, was their first kiss. Moving from friends to couple can be straightforward or arduous. It all depends on how easily you can cross the line. In this case, Miyamura showed that he could do it with the greatest facilities. This is probably because of how natural it is. It doesn't take much analysis to know that both are moving with the flow and that their relationship is progressing thanks in part to that. Of course, you don't always have to rely on it. Therefore, at the end, Hori confronts Miyamura with this vague statement: "You never do anything to me".
The relationship between Hori and Miyamura consistently depended on chance and dynamism. But there are things that take more than that. Moving the relationship forward is not just a matter of flow, there are things that need to be moved forward. I don't get tired of saying it, they are both teenagers and this is a very hormonal phase that relationship cannot escape this. While it is good to be clear about the time and place, it is also good to remember that the environment sometimes requires work. While this may be random, you also need to know how to create it and take the step forward. A relationship that seeks a future must move forward.
remains
The next item on the agenda is Sawada's appearance. She was introduced to us as a funny character, especially in her arguments with Miyamura. At first it was easy to misunderstand his interest, eventually we find ourselves in a story in which the most important thing is love, heterosexual love. Her first interactions with Hori and Miyamura could easily make us think that she was the one that she loved was Miyamura. Obviously everything took a turn when her true colors became visible. Even so, it's still evident that her self-proclaimed love for Hori isn't the romantic type, regardless of what she proclaims. After seeing her interaction with Miyamura and other boys, it is clear that she is a bit androphobic and therefore feels more secure with girls, and Hori is clearly an example that everyone should admire.
Knowing more about Honoka means finding out that their fears are based on loss. Obviously she was close to her older brother, but he died and she was left alone. It is almost certain to assume that this is the source of their fear and discomfort towards the boys. But Miyamura has something else to offer, and not because he's Hori's friend. Sawada felt comfortable with him, she is aware that she is being looked after by him and therefore she wonders if he has little brothers. We can say that she sees traces of her brother in Miyamura, there are things in him that awaken her memories. We can also see that this, on your part, is more unconscious than conscious. After all, she doesn't seem ready to face her full duel.
This is just something that got me curious, but I read on various forums in English that they had the theory that Honoka and Miyamura are actually brothers. I found it odd because of the implausibility of the situation, surely their designs are similar, but there is nothing deeper than that. Part of the theory pointed to the number of dishes in the sink that made me laugh. That is, if it was just the two of them and only ate the two cakes, isn't it obvious and logical to believe that there will only be two plates and two cutlery sets? People make up everything.jpg
Final comment
Horimiya Chapter six was a fun, exciting, thought-provoking, and sadly, very short episode. In fact, it took the same time as the previous ones, but it was so good and fluid that it felt shorter than the previous ones. This time around I felt that the fluidity of the scenes was more rhythmic, it didn't feel like one jump at a time like it did with the previous episodes. Though many things were happening again, the narrative was better groomed so that the appreciation felt better managed in each situation.
Before I conclude on this review, I just want to express my luck for the great Horimiya moment that has been granted to us. Hori and Miyamura's first kiss was the cutest. I've always loved this chapter in the manga so it was bliss to see it animated. I wish the romp between Miyamura and Shindou were fully animated, but I'm still very satisfied. The "Candy Baron Shindou" lives in my heart, if not in the anime, as does Shindou's unreasonable request that Miyamura grow his hair back in 3 days.
So far, I leave you the usual questions: What did you think of this chapter? How do you see the progress in the relationship between Hori and Miyamura? Did you like the sweet kiss of our protagonists? What do you think of Sawada? Do you think we'll see more of Sawada and Miyamura acting like brothers?
.