Warning! This review on Tokyo Avenger Chapters thirteen and fourteen contain spoilers. If you haven't seen the episodes yet, I recommend watching them and then going back to read the review.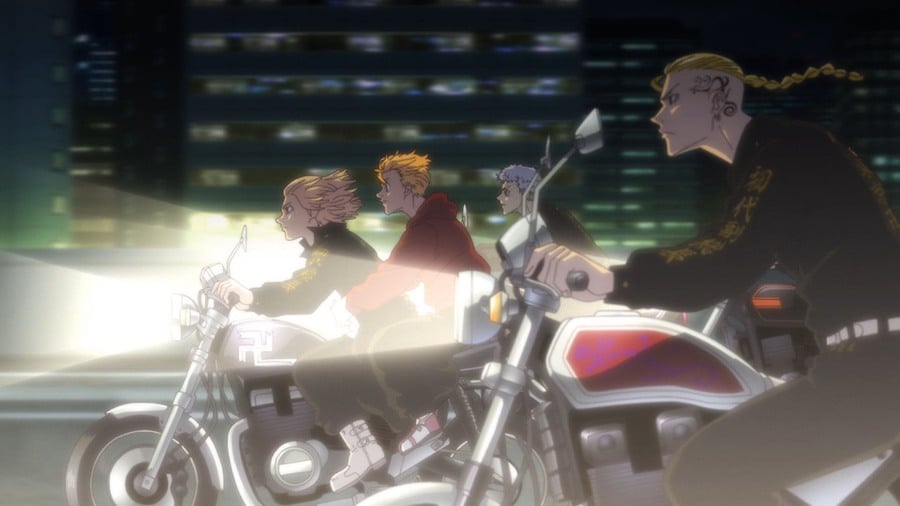 # 13 Opportunities and opportunities
Tokyo Avenger Chapter thirteen begins with a summary of what was seen in the previous chapter and follows on from Hina's death. Takemichi attends Hina's funeral and speaks to Naoto again to correct his determination to continue the time travel. Before Takemichi goes back to the past, he meets Draken, who is sentenced to death. He tells her that everything was bad because of Kisaki. In the past, Takemichi still thinks that he must become the leader of the gang in order to avoid the tragic future. For his part, Mikey informs him that that night he will reveal the captain of the third party.
# 14 Break up
Tokyo Avenger Chapter fourteen begins with the meeting to appoint the captain of the third squad, the result is astounding as it is alarming, the chosen one is none other than Kisaki Tetta. Unable to avoid it, Takemichi pounced on him, but the rest of the Toman members demanded that he explain himself. Before he can say anything, Baji shows up and after defeating Takemichi he announces that he is leaving the Toman and will join Valhalla. Kisaki hits Takemichi back and knocks him unconscious when he wakes up, only Mikey with him. After Mikey tells him that Baji is his childhood friend and a founding member of the Toman, Mikey asks Takemichi to bring him back. In return, he accepts and asks that Kisaki stand as a candidate, with this agreement Takemichi is now an official member of the Toman second division.
The root of the problem
After Takemichi experiences the bitterness of the loss, Takemichi finally realizes that they handled the problem incorrectly. It is not enough just to steer the future; if you want real change, you have to get to the root of the problem. In this case, the root of this problem is none other than Kisaki. This character has so far been presented to us as relevant up to a point, he has been named and we knew he was an important role. However, by the time we saw the tragic end of Hina, we could understand the true weight of her meaning. Although we now know that he is to blame for the future tragedy, the reason for this remains unclear.
Without really knowing Kisaki's motivation, we have once again set off in a new direction. From Takemichi's point of view, you don't really need to know Kisaki's motives, just take him out of the equation without further ado. Given the damage it has done, I don't think it's a mistake, it would be pointless to empathize with a twisted killer. The really important thing here is that Takemichi is finally ready to achieve his longed for future. As I said, it is not enough to make a few changes, you have to nip everything in the bud. The method is least as long as the desired result is achieved, in this case driving kisaki from the toman.
Takemichi obviously still has a long way to go, his original idea was to take over the Toman, but he quickly ran into reality, he is not even an official member. The entry of Kisaki and his managerial position is also a flaw in his calculations, and it's not that they were very good in and of themselves. The road ahead is steeper than I imagine, but our protagonist is strong and has convictions, so he will be able to master it. The new direction his plan has taken may divert him from the original purpose of his plan, but it may be what he needs to further his beliefs. Throwing Kisaki out of the toman is the goal, but picking up some targets along the way is not a mistake.
The deal for the future
This detour you have to make is a small pact. We see it as easy, but it doesn't look like an easy task at all. To drive Kisaki out of the toman, Takemichi must bring back Mikey's childhood friend, Baji. I repeat, saying that it sounds simple, but without thinking about it, this is perhaps the most complicated task Takemichi has ever faced. Despite his experience dealing with Mikey and his unpredictable humor, Baji seems to be on a whole different level. Despite Takemichi's already famous punching bag, I don't think he's ready to literally become one. The deal with Mikey is undoubtedly a sincere request from the leader of the Toman, as he is a witness to how Takemichi's efforts are able to inspire and transform hearts.
That Mikey Takemichi entrusted such a mission is not in vain, he did it believing in the feelings of change that the crying hero brings about. Because he believes that if someone can change Baji, it will undoubtedly be Takemichi. With more faith than confidence, Takemichi accepted this mission, believing that only then can he avoid the worst future. These decisions show us that Mikey is not a fool, he knows exactly where to put his faith and because of this he knows where not to. He doesn't trust Kisaki, but for Toman's sake he's willing to try, so it's no surprise he accepted Takemichi's deal. Mikey has no ties with Kisaki, but he does need them, but Takemichi's accomplishments could undo that need.
It must be said that Takemichi does not disappoint, his luck led him to a stretch that can be of paramount importance. Contrary to what Mikey had told him, he found a photo of six founding members of the Toman, not five. This clue could be the trigger to find out why Baji left the Toman and why he allied himself with the rival gang Valhalla. Takemichi still doesn't know at this point, but Baji has met with the boy in the photo and everything indicates that he is the reason for such an abrupt breakup from the band. It won't be easy, but Takemichi will have to gather clues to learn the truth or it will be too late.
Final comment
Tokyo Avenger Chapters thirteen and fourteen were episodes full of information, making them an incredible introduction to the Bloody Halloween arc. Both episodes combine their plot perfectly to delve into the new conflict that we will encounter in this arc. The foundations have been laid, we have a perpetrator, an internal conflict, a goal and of course a clear goal. All we have to say is that this introduction is over and we are fully committed to the development of meeting all of the characters involved. We already have our look at Kisaki and our introduction to Baji, but we still have to wait for Kazutora and Chifuyu, this will be the real starting point.
Before I close on this review, I just want to say that I have a huge crush on the new ending. The new ending theme is titled "Tokyo Wonder". and is responsible for Nakimushi. Of course I love the musical part, but what really enchanted me was the visual. The spoilers are great and the manga references are exquisite. On the other hand, and without moving away from my big crush, I am fascinated by the fact that the opening theme is the same. I don't think any other song could have rivaled "Cry Baby" to bring us in line with this story.
Anyway, those were my impressions of these chapters, tell me: what do you think of these episodes? Did you like this start for one of the best arches? What do you think of Baji and Kisaki?