During the event AnimeJapan 2023 A new promotional video has been unveiled for the second season of the manga's anime adaptation, written and illustrated by Koharu Inoue, Shinigami Bocchan to Kuro Maid (The Duke of Death and his maid). The video confirms that the premiere is planned for next July in Japanand shows a fragment of the musical themes, including:
Natsuki Hanae And Ayumi Mano You will see the opening theme titled "Kimi to the revue", while Nasuo will be the closing theme titled "Hoshikuzu Requiem".
The first season premiered during the season of Summer 2021 (July-September)with a total of twelve episodes while the platform Fun (now Crunchyroll) handles western distribution. For his part, Inoue published the manga through the portal Sunday Webry from the publisher shogakukan from October 2017 to May 2022.
voice output
Natsuki Hanae like Bocchan.
Ayumi Mano like Alice.
houchu ohtsuka like Rob.
Inori Minase like viola.
Wakana Kuramochi like cuff.
Hiroshi Kamiya like Zain.
Yuma Uchida like Walter.
Youko Hikasa like Daleth.
Masaaki Mizunaka like Zachou.
Queen Ueda like Amelie.
production team
Yoshiki Yamakawa (Dungeon ni Deai wo Motomeru no wa Machigatteiru Darou ka, high score girl, Little busters!) is responsible for directing the anime at the studios JCSTAFF in cooperation with studios SMDEwho took care of the CGI animation.
Hideki Shirane (Boku no Kanojo ga Majimesugiru Sho-bitch na Ken, Date A Live, Dungeon ni Deai wo Motomeru no wa Machigatteiru Darou ka) is responsible for writing and supervising the screenplays.
Michiru Kuwabata (high score girl, Penguin no Mondai) is responsible for character design.
Gene Okuda And Takeshi Watanabe (Fantasy Bishoujo Juniku Oji-san to, To LOVE-Ru Darkness, Kono Minikuku mo Utsukushii Sekai) compose the soundtrack.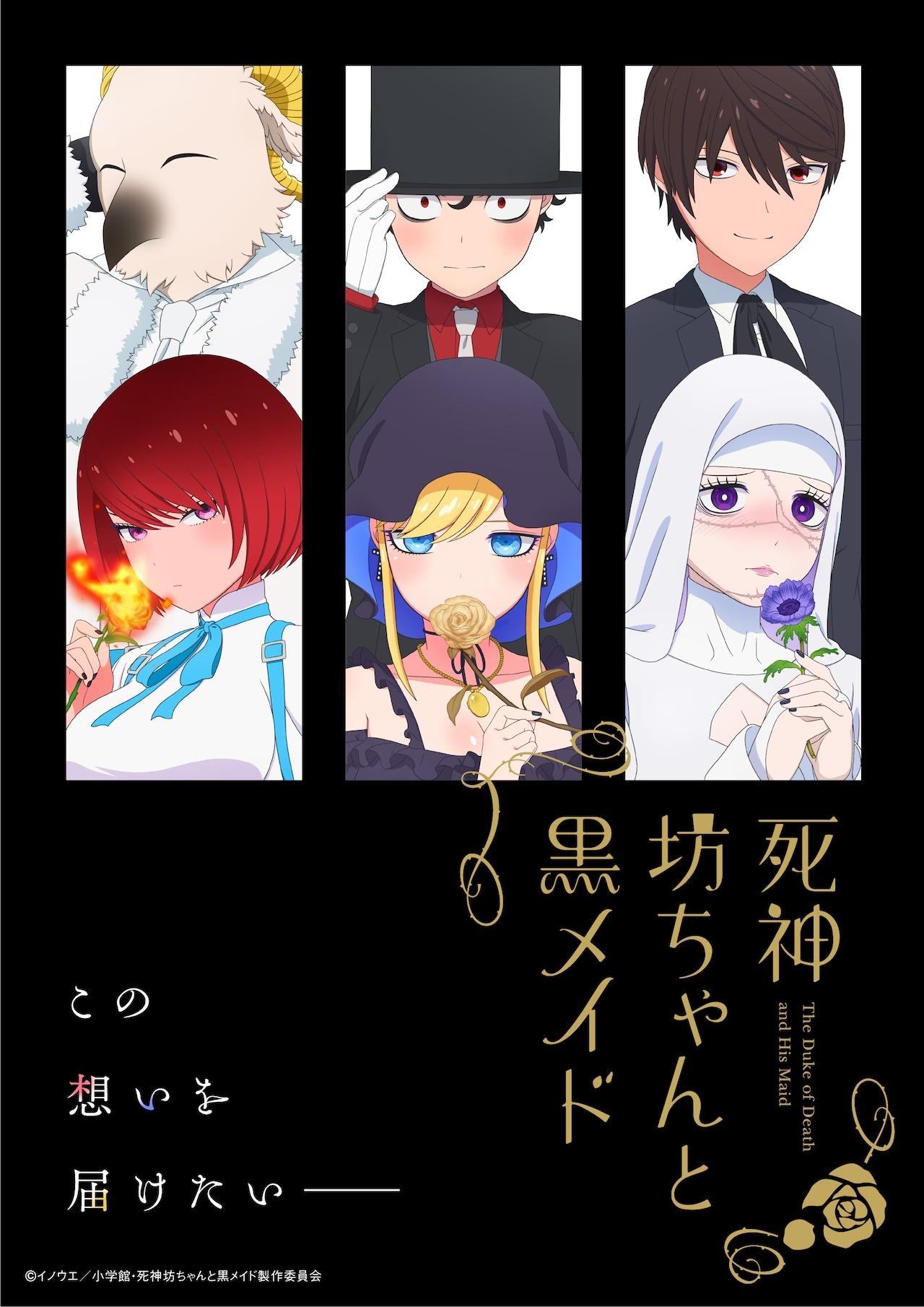 Summary of Shinigami Bocchan to Kuro Maid
Cursed by a witch as a child, a young duke gained the unwanted power to kill any living thing he touched. The Duke is forced to move away from his family and into a large mansion deep in the forest. He is treated as if he doesn't exist and is constantly shunned by his peers. However, you are not entirely alone. Rob and Alice, her butler and maid, are always by her side. Alice loves to tease him, and as their relationship grows, the Duke sets out to break free of his deadly curse. Of course he'll need some help, and who better to help than the various denizens of the supernatural?
Spring: Weird Natalie
(c)イノウエ/小学館・死神坊ちゃんと黒メイド製作委員会