On the official site for the anime adaptation of the song produced by Honey factory, "Heroine Tarumono!", titled Heroine Tarumono !: Kiraware heroine to Naisho no Oshigoto (To become a real heroine! The unpopular girl and the secret task) the first promotional video of the project was released. The video announces additional actors and shows an excerpt from the opening theme with the title "Julietta"And played by the musical unit LIPxLIP.
The series is scheduled to premiere on television in Japan in April 2022 and will also have a manga adaptation that will begin in January 2022 across various digital platforms, with new chapters on the first and third Sundays of each month.
Cast
Inori minase as Hiyori Suzumi.
Kouki Uchiyama as Yuujirou Someya.
Nobunaga Shimazaki as Aizou Shibasaki.
Ayane Sakura as Juri Hattori.
Satori Hayami as Chizuru Nakamura.
Junya Enoki as Nagisa Shiranami.
Momo Asakura as Hina Setoguchi.
Natsuki Hanae as Koutarou Enomoto.
Takuya eguchi as Ken Shibasaki.
Nao touyama as Arise Takamizawa.
Yoshitsugu Matsuoka like Kodai Yamamoto.
Production team
Noriko Hashimoto (High school fleet) is responsible for project management Lay-Duce.
Yoshimi-Narita (Bouken Ou Beet, Dakaretai Otoko 1-i ni Odosarete Imasu, Senpai ga Uzai Kouhai no Hanashi) is responsible for writing and monitoring the scripts.
Kaori ishii (Araburu Kisetsu no Otome-domo yo, Release The Spyce) is responsible for character design and animation direction.
Moe Hyuuga (Araburu Kisetsu no Otome-domo yo, Kono Sekai no Tanoshimikata: Secret Story Film, Oshi ga Budoukan Ittekuretara Shinu) is responsible for composing the soundtrack.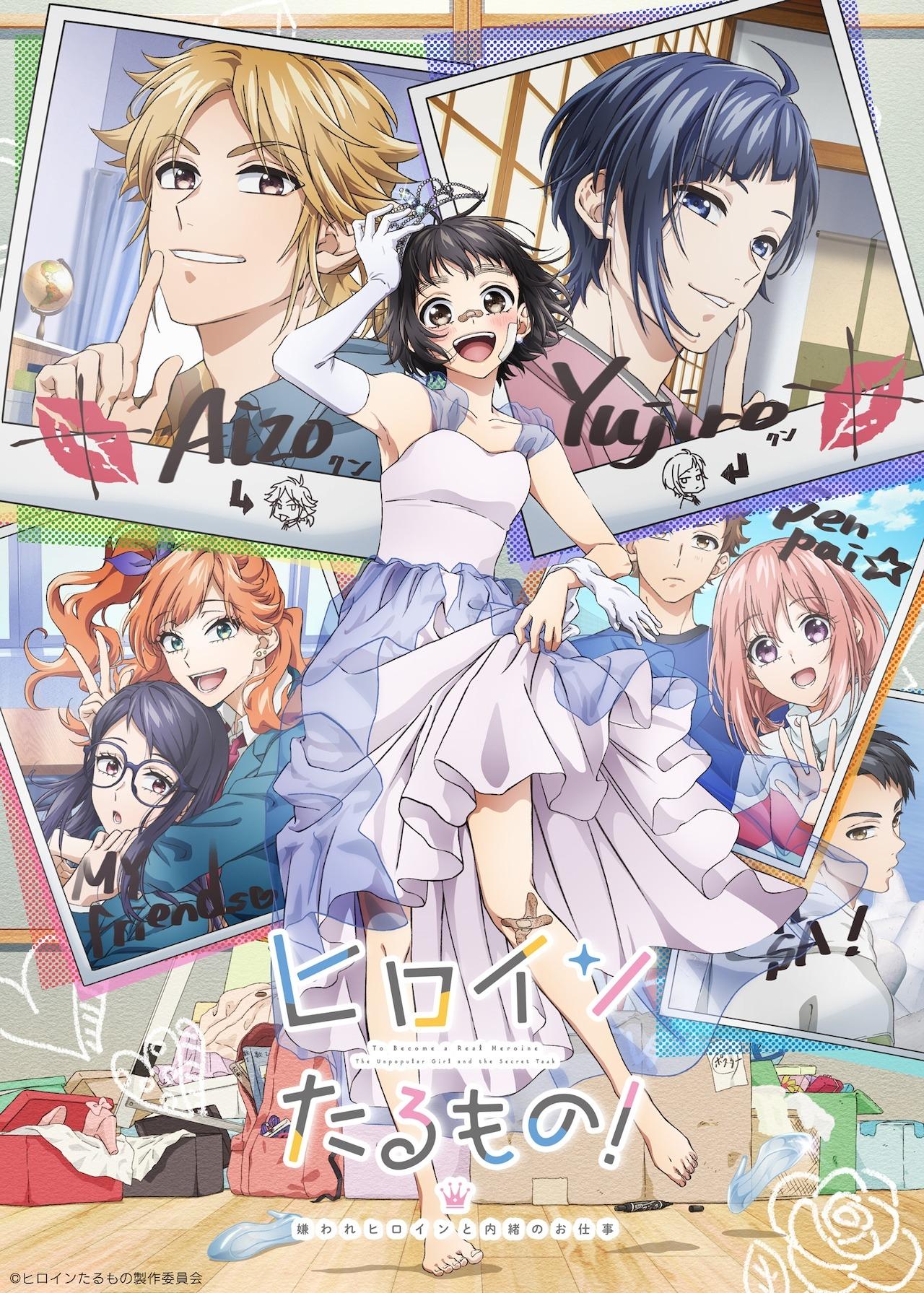 Heroine Tarumono! Synopsis: Kiraware Heroine to Naishou no Oshigoto
Hiyori Suzumi, who left her hometown to pursue her passion for athletics, is enrolling at the Sakuragaoka Institute in Tokyo. Looking for a part-time job, Hiyori eventually becomes a management trainee with her classmates Yuujirou Someya and Aizou Shibasaki, members of the idol group LIPxLIP. The story follows the struggles Hiyori has with school, after-school activities, and her managerial job, as well as with the idol group LIPxLIP when they perform on stage.
Fountain: Comic Natalie
(c) ヒ ロ イ ン た る も の 製作 委員会