This rating on Uzaki-chan wa Asobitai! Chapter 2 contains spoilers. If you haven't seen the chapters, we recommend that you do so and then return to read the review.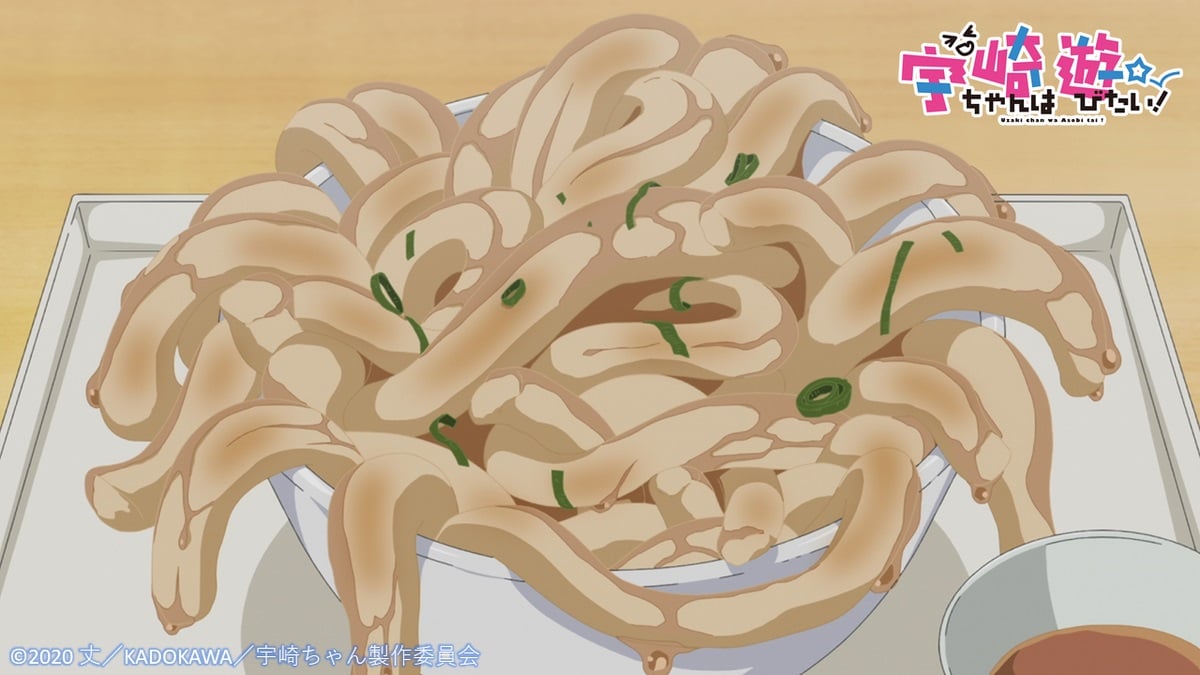 Uzaki-chan wa Asobitai! - Chapter 2: The cafe owner wants a look!
While on his way home, Uzaki saw Sakurai through the windows of a coffee shop and discovered his work place. Sakurai realized that it couldn't help but scream for the misfortune that had occurred. This scream surprised the owner as he heard Sakurai upset for the first time while working. Despite everything, Uzaki is there as a customer, so Sakurai tries to be serious at the owner's request. As always, however, Uzaki teases him, which annoys Sakurai. Tears up his quiet job.
The next day, Uzaki is on the way to Sakurai, who tried to pet a stray cat while smiling. At first, Uzaki found his smile uncomfortable, but after learning a little more about the situation, he tried to help his senpai by catching the cat. In the end, however, it gets stuck in some bushes and creates many situations that lead to misunderstandings.
Although some time has passed, Sakurai still finds it difficult to deal with Uzaki after being caught in a bush. However, he sees her again in the university canteen. Where, between surprises and messages, the food of both gets cold.
A loner with a terrible villain face
During everything that happened in Uzaki-chan wa Asobitai! - Chapter 2 I could better see how Sakurai sees Uzaki. As a key, take the one who seems to be well aware of Uzaki as a woman and not as a friend. Even if you have a love-hate relationship to your anger KouhaiI have a feeling that this awareness was created for him sometime in the past. Become a possible trigger to reveal his true feelings for Uzaki.
Of course there were cliché situations in which the reaction he had was very obvious given his personality. Although others were a bit surprising, especially how it "helped" to hide his underwear from the stuck Uzaki.
In the same way it is last chapter Sakurai showed that he was too aware of Uzaki as a woman. Especially for his highly developed body despite his small stature. Although it seemed more instinctive on that occasion, at least a lot more than in Uzaki-chan wa Asobitai! - Chapter 2 with your "help". What seemed more like his personal fetish, which he used to unconsciously follow.
Yes? So it is. I am an adult
Unlike his senpai, Uzaki shows no evidence of seeing him as the opposite sex. At least not for the time being. Since most of their interactions are teasing, some are pretty fun. But overall, I currently feel that Uzaki sees Sakurai as a friend, and there are even times when he looks like a mother or an older sister. Of course, these occasions are linked to her teasing.
For example in Uzaki-chan wa Asobitai! Chapter 2, when he learns that Sakurai is having lunch with a friend, and in many other series shows a response worthy of a mother, of course with a more mocking tone. But to demonstrate a real surprise of this fact.
Another detail that makes me believe that Uzaki sees Sakurai only as a friend and / or someone less than her was his reaction throughout the section in which Sakurai's taste for animals was discovered. When she saw him discouraged, she decided to catch the cat, and if she couldn't, she would take him to a place where it would be easier to pet one. Just like everything that happened after this chase with her underwear in sight, the possibility of being more exposed when you leave the bush, and of course the way she was pulled out of the bush.
While she herself was the one who mentioned the fact that she was more exposed, this time from the chest when she left the bush very quickly. The moment her underwear was in sight and Sakurai "helped" her to hide it, Uzaki was a little embarrassed but let go of her. That's another reason why I think Uzaki doesn't see his senpai as a man.
Although there was a time when she became aware of it. To a lesser extent, of course. He spoke of the surprise attack Sakurai made when he told her that he was only showing her this side of him because it was special. Of course everything was a misunderstanding, quite a cliché, but it didn't leave bad taste in my mouth.
Maybe Uzaki's character is a bit sexualized, but she's already a 19-year-old girl. I think this "sexualized" touch is more natural than many people think. Her cheerful and energetic personality and stature make many people misread the character.
It's fun to see the exchange between these two
Here I fully agree with the owner of the café. The clash between the protagonists' personalities is extremely funny for me. I enjoy seeing all of their funny moments between the two, be it because of misunderstandings or Uzaki's strange funny joke. This is why, although the protagonists' feelings may seem obvious to third parties, personally it would not help them to discover them. At least it wouldn't be obvious. Maybe a little help that goes unnoticed by both, just so that one of them can discover their own feelings or at least come up with an idea. I am waiting for your reaction for my personal enjoyment.
After all, the reactions in which they showed Uzaki-chan wa Asobitai! I found it very good. Since the expressions, I think that they fit perfectly. For example, when Sakurai discovers that Uzaki only "sleeps" at home so they can play video games all night. His completely red face and the sentences he had screamed at made me laugh seriously. Mainly because of the unexpectedness of seeing him in a position where you normally see a female figure with two touches, at least the sentences reminded me.
Although I not only like the facial expressions of the characters, I also like the physical ones. In these, my favorites were Uzaki's as he tried to ask Sakurai if he was fine while having lunch at various university tables. With Uzaki, who tries to communicate with body expressions. They obviously had their weird details, but still felt pretty "organic" for their character. I expected nothing less from Uzaki.
Technical details of Uzaki-chan wa Asobitai! - Episode 2
Compared to the first episode, I think about it Uzaki-chan wa Asobitai! - Chapter 2 did better in terms of ecchi and fan service. Although there wasn't much to see in the episode either. However, the sparse appearance was more than powerful, showing Uzaki's underwear and a scene that could easily be misinterpreted without context.
Apart from this improvement, the animation doesn't convince me. In general, it's not bad, it has great details and shows great quality in scenes and important moments. However, there are some others where the animation appears to be rather unnatural and / or abnormal. The example of Sakurai stroking Uzaki's head when he first met the owner. Well, I only did it with my fingers. The hand appeared to be a still image and Uzaki's hair had no movement.
While there were other times Uzaki-chan wa Asobitai! - Chapter 2, in which I think it could have been used better. As a moment, take the moment Sakurai sees the stray cat before Uzaki sees him try to stroke him. This musicalization moment made it seem mysterious, but I think it would have been much better if they hadn't encouraged the cat during that encounter. Just let Sakurai's mysterious look along with the atmosphere achieved by the music. Also, in the next scene where the cat scratches Sakurai, I have to confess that the cat's movement was also pretty abnormal. I've never seen a cat jump like this before. If they try to give it a weird touch, I don't feel like they did.
Preview the next chapter
At the end of the episode and after the end, there was no indication of the next chapter. However, a few days later it was uploaded to the official channel of Youtube from Kadokawa a video of these advances. In which we see the addition of a new female figure as well as the great event of the sick Sakurai and a loud and annoying one Kouhai to take care of him.
First and foremost, I can't wait to see all the scenes in which Uzaki takes care of Sakurai, as these are often associated with romantic touches. So I want to see how they are adapted and how balanced they are between romance and comedy. I am also impatient for the arrival of the new female figure, which I personally like very much. What I hope most for the next episode is that they show good quality animation, in sync with a good job in the sound section. Especially in the movement of the characters.
.