This review on Tonikaku kawaiI Chapters five and six contain spoilers. If you don't want to have a bad time, you better watch these episodes and enjoy this review.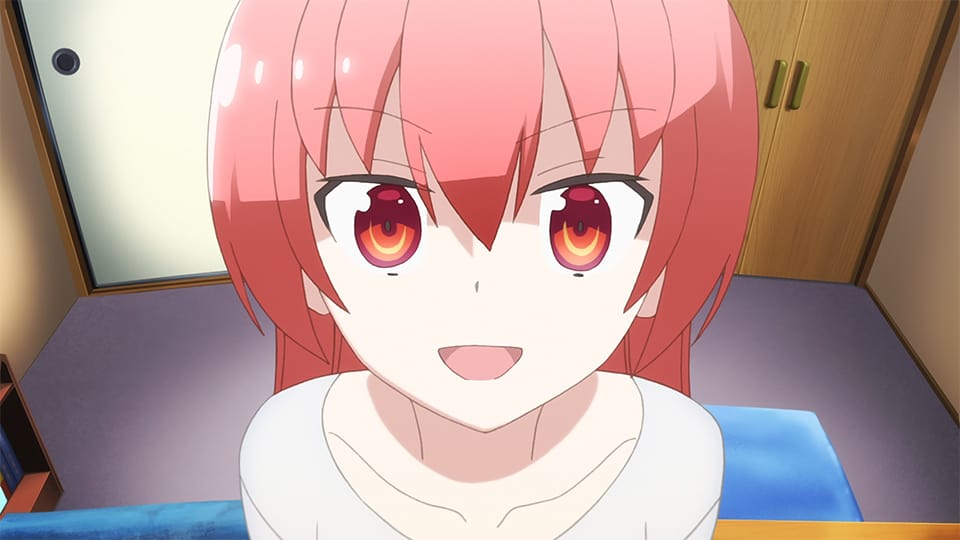 Chapter 5: Ring
No obligation can be considered serious without evidence of its obligation being essential. In the fifth episode, NASA understands the meaning and importance of wedding rings. The approach of our main characters takes shape and they blend in. Tsukasa is not only a strange inhabitant of planet earth, she is a crazy film fanatic. His passion for pop culture is impressive and definitely one more reason to make NASA fall in love. A television should not be missing at home, as well as a couple of wedding rings for the spouse.
Chapter 6: Report
Lack of space brings our little Nasa into trouble. His imagination goes faster than he would like to be so close to Tsukasa, living together, sharing the same bed all night is a dream that Nasa does not want to give up. This idea, like that of the ring, is unnecessary for Tsukasa, but she cannot resist her husband's strong arguments. So far, NASA realizes that his family knows nothing about his marriage; The couple embark on their honeymoon to meet Nasa's parents. The camera is an essential element on this journey.
Passion
In chapter 5 we continue to know the personality of our protagonists, especially Tsukasa. This anime about each chapter is increasingly captivating its audience, and that is, its development breaks any stereotype of romantic love, offering us an original story and an authentic couple with everything and the fantasy that surrounds them. Tsukasa turned out to be passionate about cinema. The diverse references of the most famous sagas of cinema and space lead us to the mysterious origin of Tsukasa. Tonikaku kawaii He does a great job and gives his characters their own story that fans can love.
Everyone has different ways of showing their feelings. The way we carry out our commitment has become a sick necessity that ends any love relationship. Refreshing the meaning of a pair of wedding rings, not as a necessary object to believe in the other's love such as an idol, but as a symbol, confronts us with the problems that love faces today. Nowadays people are lovers of pictures; they do not represent, they are reality itself "Seeing is believing ". The expressions of love are not private, they have to be public, that is, it is not enough to feel love, we have to materialize them.
In contrast to idols, symbols are only a representation of their own meaning. You are not really worshiped for yourself; They are just a reminder of what exists outside of us. The rings that Nasa wishes are a symbol of his love for Tsukasa and therefore a sincere sign of pure love.
photography
I don't want it to photograph tourist places. I want to take photos of our days together. I want to take a photo every day, text them a message and save them. Every day has its own meaning. Over time, people tend to forget things; Like spending every day with the person you love will always be the most important thing. That's why I want to gradually collect these memories, like a secret diary between man and woman.
Like every picture, photographs are not the image of reality, just memories. Images, especially photographs, have a special value today and can define us because their meaning is no longer that of a memory. In love affairs, it's important to appreciate and remember what makes us really happy. If we only view photos as lived moments, we don't have the illusion of reliving them and obscuring the experience itself, but rather that moment brings us closer to it just to let us know we were there.
Forgetfulness is necessary to feel nostalgic and to recreate ourselves, but memory is also necessary. Forgetting is not always a sign of death, it also enables us to be reborn at another time, in another place, but with the same feeling. The love of Nasa and Tsukasa is not based on idols and paper realities. It is based on experiences and memories presented in rings and photographs.
Final conclusions from Tonikaku Kawaii
Tonikaku kawaii Every chapter catches us. This anime shines for its reasoning, the development of its characters, and the animation. For every episode I would like to see a second season and everything necessary to make us part of this romantic love story. At the beginning I mentioned that the characters' personalities make us love them. Despite the fantasy surrounding the story, the realistic nature of its development makes it entertaining, fun, and cute. This combination is not unpleasant, on the contrary, the great handling of emotions is so natural that it immediately connects with the viewer.
The invitation to track him down continues with greater excitement each week. If you have not already been encouraged to do so, I assure you that you will not regret it. On this side of the world, we usually consume an idea of ​​love that is completely wrong and far from reality. Fairy tales can make us vomit, but we blindly follow in their footsteps. Thinking about love from another culture and other customs can be even more insightful and interesting to criticize ourselves for what we normally consume. It's an excellent test. So please be encouraged to watch and comment on this anime on various platforms.
.