Reservation! This review about Kakkou no Iinazuke Chapter twelve contains spoilers. If you haven't seen the episode yet, I recommend you watch it and then come back to read the review.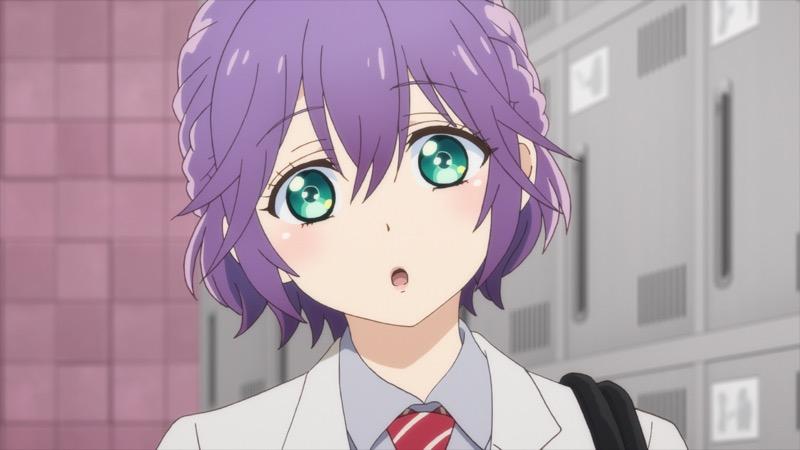 Chapter 12
There sacchi treated again Nagi as usual Erika relieved, but Nagi he apologizes to her for putting her in the middle of this situation. Erika accept his apology when he goes shopping with her, but Nagi He tells her that wouldn't be possible as he would probably have something to do, which surprised her.
at college, Nagi asks Hiro study together after class, using the excuse that exams are coming up. She accepted with no problem. the intentions of Nagi are simple, one would like to be able to look better in front of oneself Hirosince he wasn't feeling too well during his rendezvous at the amusement park, he hopes for a pleasant time with her in her comfort zone.
Unfortunately, although his expectations were very high, nothing went as he planned; because going to the library was something that meant silence. As usual, Nagi he started to get alarmed and scream to himself. Nevertheless Hiro He handed her a note that started a discreet conversation between them. That was enough to ease the tension that had plagued him before, and he began to enjoy their time together. But the library closed and they could only study for an hour.
Determined not to leave things half finished, he looked around for possible places Hiro and continue her studies, but both were not acceptable enough. His mental despair was calmed the moment he Hiro asked him to accompany her to her kickboxing training.
Nagi helped her practice, but he landed on the ground due to the force Hiro. While she was looking for something to drink Nagi He took the opportunity and hit a punching bag. As well as Nagi was impressed by the skills of Hiro, they also in relation to its strength. Meanwhile, they enjoyed each other's company, Erikapassing saw her and made an annoyed face.
Way home, Hiro Thanks to Nagi after accompanying her and he confesses that when he asked her his intention was to decide the things to do but in the end she was the one who decided everything so he thought she was the weight who had made decisions and didn't make them he feels right. Hiro She tells him straight out that she wanted to date him because she wanted him to get to know her better. Those words were enough for Nagi will blush
Be at home, Nagi didn't stop doing push-ups and sacchi he asked Erika what was wrong with her, but she tells him she had no idea. However, his face reflected anger and he said "Jerk" at the reference Nagithough only she could hear herself say that.
Erika's jealousy
When Erika got home the next day, she was waiting for Nagi with an angry wife pose, but the surprise was in her words. "Today we're going out together", She said. Obviously, Nagi hadn't expected such an invitation, despite how unexpected it was.
in the date, Erika brought to Nagi went into a shop and bought him clothes. He accepts the fact that the clothes are fairly comfortable, but he doesn't express much emotion about it Erika stares at him. Watching the strangeness in their actions, Nagi He asks her what happened to her, that going out was just an apology to her parents. But she gives him an ambiguous answer. So it was enough for all of that Nagi I began to suspect something was wrong Erika.
Going from a clothing store to a reptile store was quite a drastic change. ignoring this fact Erika has boasted of his fondness for these animals since the day the lizard entered the bathroom, however Nagi he does not feel the same affinity towards them. Leaving this place, she notices that he still didn't enjoy the date very much, on the contrary, he seemed to have a hard time. So, determined not to end the date, she takes him jogging.
After jogging, or rather what seemed like a competition, Erika look at Nagi unhappy and wondering what the mistake was. So she asked him if he likes sports, but he didn't give a positive answer. So she asked him directly why he does kickboxing if he doesn't like it. So on topic Erika He claims to have had a date with him Hiro and that he wasn't smiling at her the way he was smiling at her.
Nagi makes it clear that he sees no problem in liking it Hiro or date her since even Erika had supported him before. To which she assures that things have changed. So he again claims that when he could date her he dated someone else and that he was her fiancé. With these claims Nagi understood the reason Erika she had asked him out so suddenly. In addition to realizing that Erika she was jealous to see him on a date Hiro. Asking her if she liked him enough to be jealous was something she had grown used to Erika caught off guard, so she tried to hide the embarrassment she felt at the situation by uttering these words: "I don't like you yet". When I realized what he had said Erika he runs back home.
until you came home sacchi was the one who received it but was so upset that she ignored it. In the meantime, Nagi I couldn't stop thinking about what happened. introduce to Erika confessing to him was something that made her heart skip a beat. But all of this was in doubt, and while he searched for the meaning of the definition of "love," it wasn't something that could be understood by simply reading what it was about.
Faced with doubts, he decided to visit his parents' house to look for a dictionary, but in the end he came across a box containing love letters Yohei sent him name when they were young. His curiosity prompted him to open said box and read some of these letters.
Yohei involved Nagi reads the letters and tells him briefly how they came into his hands name, in addition to declaring with all determination that these letters represented true love. So Nagi thinks that falling in love is something really serious. Then, Yohei He asks her to look into her heart. He told her to close her eyes and imagine the person she loves. Nagi did something Yohei he asked, but it turns out he wasn't prepared for this. He saw not one but three girls: sacchi, Erika Y Hiro.
This ended up being a total surprise and instead of getting an answer to his doubts, he got more questions.
At home, Erika received a message from Nagi: "I don't like you either, still".
Nagi decided to leave it at that for now.
final opinion
We've arrived at Chapter 12, we're finally in the middle of this great story. I am extremely excited because today the 13th chapter of this anime will be released Kakkou no Iinazuke. The events that have been and those that are about to come make me wait. But we will have time to talk about the following chapters, now I will tell you about the twelfth.
The personalities of Nagi, Erika, Hiro Y sacchi They are very different, each one is unique and they represent four colors of a single work, love. They have mingled, but everything is connected through one of them, Nagi. We get closer to discovering each character's true feelings as they come to understand what they're really feeling. This particular chapter lets us see some of the feelings of Erika opposite to Nagi and the feelings of Nagi in relation to them, but also in relation to Hiro Y sacchiwatching the three of them as he imagined the person he loved gave him a lot to think about.
Nagi He still doesn't understand how he feels for each of them and he doesn't know who he feels for the most. To like, want or love. What position will they be in? Little by little we will discover that, but it is good to have a chapter that has served as a starter for the next episodes because, as he said Yohei Umino, "Your love is just beginning"Wise words I think.
So, in summary, it's clear that there will be many more events to come in the following chapters that clearly reflect the relationship of these four characters. So stay tuned for this romantic comedy that is sure to have many more entertaining moments to come.