Warning! This rating on Fruit basket 2 Chapter fifteen contains spoilers. If you haven't watched the episode yet, I recommend you watch it and then come back to read the review.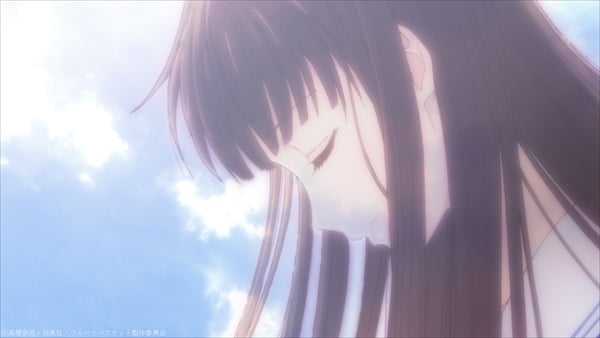 "… I go"
Fruit basket 2 Chapter 15 begins with Yuki learning that his job interview should be postponed because his mother is unavailable at the time specified. In the meantime, the rest of the cast goes through their respective career counseling. The future is still aroused in Tohru, but she has friends to support her. As for Kyou, he cannot choose a future because the sentence of his imprisonment only makes him think about the present. The time of the interview with Yuki and his mother makes the minor feel dark. At the imposition of his mother, Yuki is speechless, but luckily Ayame comes to save the situation. With new confidence, Yuki faces his mother and lets her know that he will be the one who made her decisions, making her first big step towards her future.
The difficulty of planning a future
Again, we are facing an episode that addresses the concerns and uncertainties that arouse talking about the future. But without going too far, we burden two characters that are particularly lost in this situation: Kyou and Tohru.
Let's start with Tohru, who already gave us hints at the beginning of this season how problematic it is to think about the future for them. A little bit because of the uncertainty and a little bit because of the promise he made to his mother. This conversation is problematic for her because she didn't plan anything other than what she promised to her mother. But that's just the surface of his problem and he has become aware that there is something much deeper in his fear of the future, even if he doesn't want to. Although she continues to flee from this feeling at this point and puts others' problems first.
Tohru is a more complex character than we think, his excessive kindness, deep understanding and tenderness have reduced us to the great emotional burdens he carries. Your fear of the future is a clear alarm signal for a more fundamental fear, an enormous fear of abandonment. She is so afraid that everything will end, that she has become subconsciously dependent on being used. Be careful here, she really helps others, but that has prevented her from helping herself.
Then we have Kyou, for him the problem is to talk about the future that he has none. Remember that he has made a bet with Akito and his future limit will depend on it. Talking about the future is extremely overwhelming, especially since he practically surrendered to his fate. Although it is normal to experience uncertainty about our future, Kyou's case is much more tragic. Interviewing what she will do after graduation is more cruel than healing at this point. But that Kyou surrendered doesn't mean the rest did it, Kazuma won't.
Despite the fact that Kyou decided to focus on the present, Kazuma does not give up the idea that his son will choose his own destiny. In just a few words, he lets us feel the enormous measure of his affection for Kyou. It is not his intention to take away his decisions, but that does not stop him from being worried about him and wanting to lead and support him. At this point, Kazuma knows nothing about the pessimistic resolution that Kyou adopted, although we can imagine that he guessed it. Therefore his words have a deep meaning: "Take the time you need ... I want to know your choice""
A second chance
The future is not the only thing we can save in this episode, we were also able to look at the past. A big shock came when Yuki had to face his mother and be heard by her. Thanks to that, we took a closer look at the cold that Yuki had to grow up with. The relationship with his mother is a big scar for him. Without looking for comfort in his arms, he grew up and longed for a love that was never given. Yuki's insecurities are closely related to the pathological search for maternal love, which he never received. Although she tried desperately to hold on to her mother, she never heard her screams, never heard her despair. Although Yuki thought he had given up bringing his voice to his mother, his constant disappointment with his nonchalance shows that he still craves something from her.
During the school interview, Yuki's voice was downplayed by her mother, but Ayame arrived in the midst of this desperate situation. Alarmed by Shigure, Aya arrived with the firm belief that she was supporting her brother because he is fully aware of how he is shrinking in the presence of his mother. Yuki's support and care and Yuki's recognition confuse her mother. But Ayame does not hesitate to make it clear, he has learned from his mistakes and is starting again, and it was none other than Yuki who allowed him to be that way.
The second chance is not exclusive, Yuki's heart is generous and if his mother were looking for him, he could also re-establish his relationship with his son. It is all a question of will. Ayame's looks were the perfect life-saving moment, and she gave a hands-on experience of what it means to take the second chance. He showed that he will really be there for Yuki when he needs it most.
"I am part of this world and I want to make an effort."
The best we leave at the end. Yuki's mother is not ready to change, but he is ready to do so. This consultation about the future is an important moment for everyone and also for Yuki, because it is his first step towards his own being. This is the time when you begin to put your own desires into words without being dependent on others. His mother's invasive stance when he wanted to plan his future almost made him lose his resolve. Fortunately, Ayame appeared and gave him another conviction. After all, he managed to get his intentions to his mother, he wanted to be the one who made his decisions, whether they were good or bad, he wanted to be the one who took responsibility for them. It is not just a question of freedom and independence, it is an explanation of a personal search for your own being.
This growth and search began for Yuki when he joined the student council. Slowly he started to go his own way and carried his problems alone. Being able to see her mother head-on and explain her intentions was exactly what she needed to finally get up and walk on her own. But none of this could have been achieved if Tohru hadn't supported him. For this reason, Tohru releases the hairband that Yuki gave him when he sees him walking into the student council room. It is a reflection of the current state of his feelings, a symbol of distancing himself. Yuki needed active support from Tohrus to get where he is, but it is no longer so.
From now on, he will be able to continue on his own two feet. This does not mean that Tohru has stopped supporting him. It is just a reflection that his support will not be the same as before, because that is no longer what he needs.
Final comment
Fruit basket 2 Chapter fifteen was a heartbreaking and hopeful episode. The prospects for the future have shown us that they are all at very different points in their own struggle. While some reach personal settlements, others still can't get close to the starting line. In addition, we had excellent reflection points that went almost unnoticed. The first one, dedicated to Shigure and his increasingly shameless shadow play, will eventually need to talk about Shigure's "kindness" and why everyone is noticing his malicious side. Another point that almost manages to spend us at night is Mayu's commitment and how empathetic she is. We already knew the latter thanks to Chapter 12, but the details in the interviews and his careful way of leading everyone make it clearer.
Before I finish, I have to tell you that I am falling in love with the details of the script. Last week I mentioned a parallel regarding the meeting between Yuki and Machi with the meeting between Tohru and Kyou, and this week will be repeated, but refers to Tohru with Kyou and Tohru with Yuki. Through the looks that are dedicated, they almost reveal the difference between the latent tendencies. But the award was left to the super spoiler, which means showing us Tohru's open chest and his determination to keep burying it deep inside him. We all know who this back with this eye-catching orange hair belongs to.
Anyway, this was my impression of this chapter, tell me: what do you think about this episode? Do you think the future is inevitably linked to the past? What's behind Shigure's smile? Is freedom another way of affirming our "I"? What do you think about Ayame's intervention in Yuki's interview? Should children be useful for parents? What is your opinion on Yuki's mother?
.