In the July issue of the magazine Monthly Comic Zero-Sum from the publisher Ichijinsha, it was revealed that the manga written and illustrated by Tama Yuugyouji, Magatsu Wahrheit: Hitotsukiri no Madousho, will come to an end in the next edition of the magazine, in June.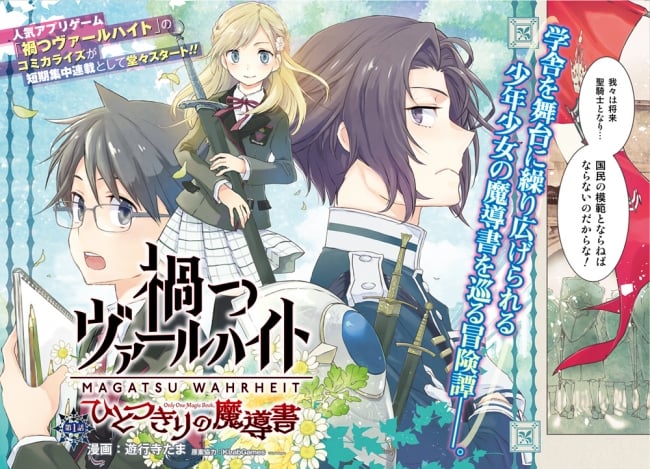 Yuugyouji began publishing the manga in Ichijinsha's Monthly Comic Zero-Sum magazine on January 28 and since its announcement it was reported that it would be a manga mini-series.
For its part, the game Magastu Wahrheit was released for devices iOS and Android in April 2019 in Japan. Miwa Shouda (Final Fantasy XII) wrote the scenarios, and Masaru Yokoyama composed the main theme song. Hiroaki Ueno (Resident Evil: Vendetta) and Youko Tsukamoto (Xenoblade X) made conceptual art.
Further, the game is inspiring an anime adaptation directed by Naoto Hosoda (Hataraku Maou-sama!, Mirai Nikki, Shuffle!) in the studios Yokohama Animation Lab (Miru Tights).
Synopsis for Magatsu Wahrheit: Hitotsukiri no Madousho
The story is a spin-off from the KLab Games game Magatsu Wahrheit, and focuses on the character Ewalt, a member of the House of Gilbert. The family gained recognition after having defeated a powerful wizard in the past. Ewalt admires his uncle, who was recognized as the leader of the holy order of knights, and who was entrusted to protect the royal family's treasure. Ewalt has always suspected that this treasure is the "First Grimoire" of the defeated wizard, but when rumors of this same grimoire being sold on the black market appear, he will begin his investigation.
© コ ミ ッ ク : 遊行 寺 た ま / 原案 協力 : KLabGames
.