The platform Funimation Mexico issued a statement through its official Twitter account informing of upcoming licenses, which will be added to its catalog on June 10th, which will include:
Mahouka Koukou no Rettousei (The irregular at Magic High School)
It has 26 episodes and was produced by the studios Madhouse and issued during the spring 2014 season. According to the title, only the first season would be added.
Summary
At the beginning of the 21st century, magic, long mistaken for folklore and fairy tales, became a systematized technology and is taught as a technical skill. On First high school, the institution for magicians, the students are divided into two groups according to their grades in the entrance examination: "Blooms", those who achieve a high score, are assigned to the first course, "Weeds" are reserve students, who are assigned to the second course . Mahouka Koukou no Rettousei succeeds brothers Tatsuya and Miyuki Shiba, who are enrolled in First High School. After taking the exam, the amazing Miyuki is placed in the first course while Tatsuya is referred to the second course. Although his practical test results and "weed" status show that he is magically untalented, he possesses exceptional technical knowledge, physical combat skills and unique magical techniques that make Tatsuya an irregular element in a wizarding preschool.
Hortensia saga
It has twelve episodes and was produced by the studios EYE FILMS and issued during the winter season 2021.
Summary
Hortensia Saga is a medieval fantasy story about war and chaos. Three years ago the king was betrayed and murdered by one of his dukes, who later rebuilt the kingdom on his own. Now the original heir to the throne has secretly come of age. Under the guise of a man, she and her loyal gang hide their mission to save their homeland.
Miracle priority
It has twelve episodes and was produced by the studios Kleewerk and issued during the winter season 2021.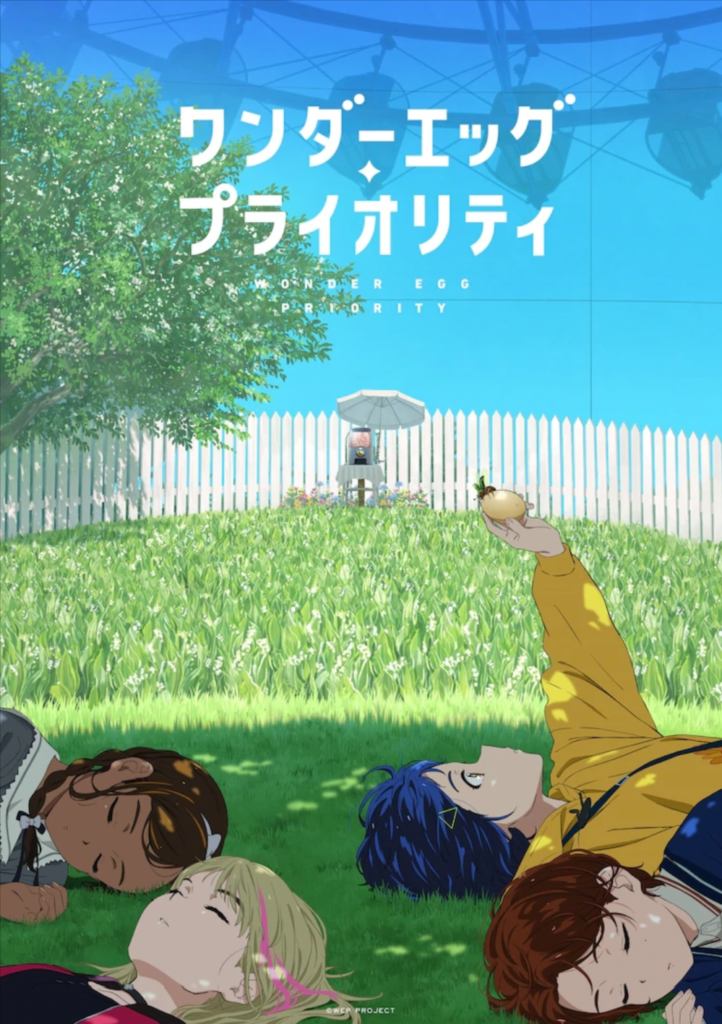 Summary
After the suicide of her best and only friend Koito Nagase, Ai Ooto faces her new reality. Having nothing to live on, she follows the instructions of a mysterious being and is forced to buy an egg or, in particular, a miracle. By disassembling the egg into a world that materializes during her dream, Ai's job is to save people from the adversities that will come their way. She believes that she has come one step closer to saving her best friend. With this dangerous but tempting opportunity in her hands, Ai enters a place where she must acknowledge the relationship between other people's demons and her own. As past traumas, unforgettable regrets, and innate fears are born in the strange world of Wonder Egg Priority, a young woman discovers the various internal struggles that plague humanity and rescues them from their worst fears.
Hypnosis microphone: Division Rap Battle - Rhyme Anima
Counting thirteen episodes, it was produced by the studios A-1 pictures and published during the autumn 2020 season.
Summary
In a world ruled by war and conflict, the Party of the Words introduced "hypnosis microphones", devices through which a user channels texts that can affect the listener's brain and even cause physical harm. Hypnosis microphones are revolutionizing warfare, making words and music the only weapons used by gangsters, terrorists, and the military, and the use of physical weapons has been banned. As a result of the attack during the Chaos, the all-female Party of Words rules the Japanese government. Women in Japan now live in Chuuouku while men fight in rap battles for the surrounding areas outside the neighborhood. With intentions unknown, the Party of Words begins to rally the former members of the now defunct legendary rap team The Dirty Dawg to fight not for territory or war, but for the pride and honor of their respective teams in the greatest battle of rap of all time. The division's first rap battle is about to begin, and practice isn't something these rappers will need.
Megalo-Box 1st season
Thirteen episodes of it were produced by the studios TMS entertainment and published during the spring 2018 season.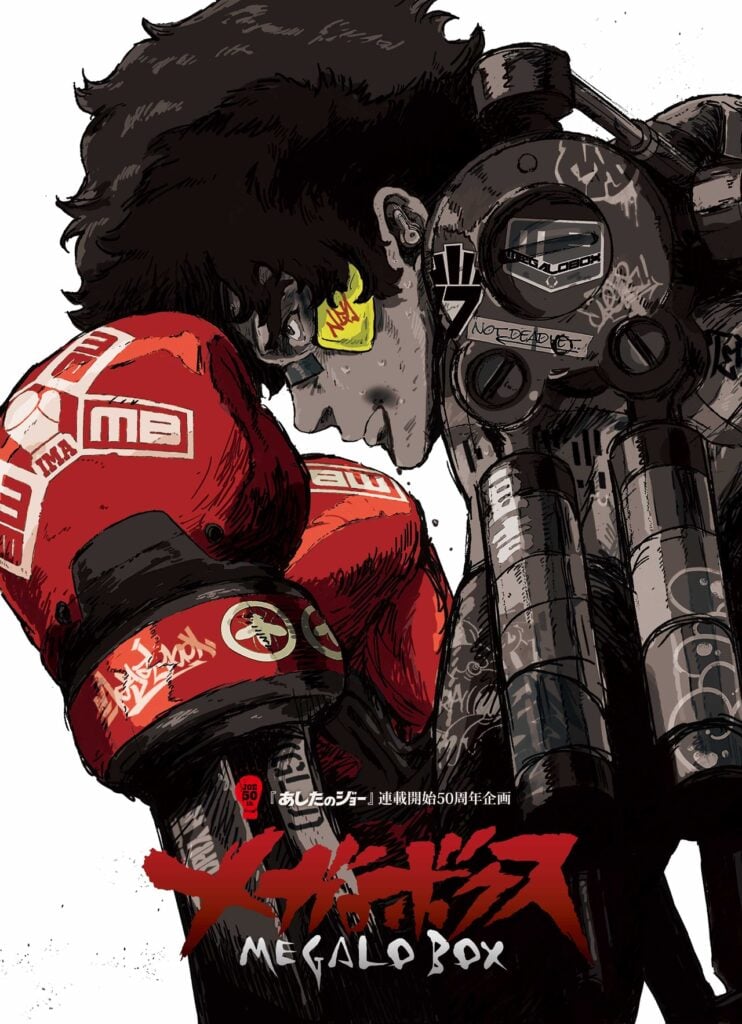 Summary
"Shut up and do what they tell you, that's the cowardly decision." These are the words of Junk Dog, an underground fighter from Megalo Box, an evolution of boxing that uses mechanical limbs known as gear to improve the speed and strength of its users. Despite the young man's enormous potential as a boxer, the illegal nature of his engagement forces him to make a living from fights dictated by his boss Gansaku Nanbu. That changes, however, when Megalo boxing champion Yuuri steps into his ailing ring disguised as another challenger. Eliminated in a single round, Junk Dog faces a challenge: "If you're serious about fighting me again, fight your way to me and my ring." Filled with overwhelming excitement and backed by the criminal syndicate responsible for its fights, Junk Dog enters Megalonia - a global tournament that will determine the strongest mega boxer of all. Not having a real name, he adopts the nickname "Joe" when he begins his climb from the bottom of the fighter rankings. With only three months to qualify, Joe must face opponents like he has never fought before to take on his rival's challenge.
Hellsing
Counting thirteen episodes, it was produced by the studios GONZO and issued during the Fall 2001 season.
Summary
Hellsing, an organization specializing in dealing with supernatural threats, is called in to eliminate a vampire who is turning Cheddar villagers into ghouls. To put an end to this, the leader of the organization, Sir Integra Fairbrook Wingates Hellsing, dispatches his most formidable asset: a powerful vampire named Alucard. Armed with a single pistol, Alucard wreaks havoc on the monsters that haunt Cheddar. But a young policeman, Seras Victoria, falls into chaos and is fatally wounded. Alucard feels sorry for the girl and gives her the choice: to die as a human or to continue living as a vampire. Seras accepts his offer and starts a new life as a member of Hellsing. Although it was her decision, Seras struggles with the fact that she is no longer human. However, he will soon have to come to terms with the creature of the night if he is to survive on the front lines in the battle between humans and the supernatural.
Ragnarok the animation
It has 26 episodes and was produced by the studios G&G entertainment and issued during the spring 2004 season.
Summary
A great evil is sweeping the kingdom; An evil that the young swordsman Roan and his lifelong companion, the acolyte Yufa, have to face! Because the two travel to their destination, from the highest towers to the depths of the underworld, through forest and desert alike. With an ever-increasing cast of fellow heroes, fate will take hold of these travelers for their own souls and lead the group of seasoned adventurers to a noble destination. Or ignoble if they don't pay attention to their steps! The monsters are on the rise and the way is full of danger and magic, the way forward may not be clear ... But where the will is strong, there is a way! Lessons wait in the depths of darkness and good must prevail. The journey starts now!
Higashi no Eden (The Garden of Eden of the East)
It has eleven episodes and was produced by the studios Production IG and issued during the spring 2009 season.
Summary
On November 22nd, 2010, Japan was hit by rocket attacks, an act of terrorism that fortunately did no harm and that became known as "Careless Monday". Quickly forgotten, society goes on with a normal life. During her graduation trip to the United States three months later, the life of her college student friend Saki Morimi changes forever when she is rescued from unexpected difficulties by Akira Takizawa. Takizawa is cheerful but strange in many ways: he is completely naked and suffers from amnesia for believing himself to be a terrorist. He also owns a strange cell phone loaded with 8.2 billion yen of digital cash. Despite Takizawa's suspicious features, Saki quickly becomes friends with the enigmatic young man. However, this is the start of an exciting death game that is all about money, phones and saving the world. Higashi no Eden tells of Saki's struggle to unravel the secrets behind her savior, while Takizawa himself battles other people armed with similar cell phones and memories that reveal his possible connection to the event from months ago.
Full metal panic! The second raid
Counting thirteen episodes, it was produced by the studios Kyoto animation and issued during the 2005 summer season.
Summary
After overcoming several tumultuous events, Mithril's mercenary sergeant Sousuke Sagara and the "whispered" schoolgirl Kaname Chidori return to their normal high school lives. Sousuke continues her efforts to assimilate with the civilian population while administering her mission, while Kaname seeks to support her efforts (despite her antics, which she often put on the wall). But as their life comes to an end, new problems arise. The rise of an independent terrorist organization called Amalgam and internal conflicts within Mithril threaten to break unity into a series of failures and betrayals. And the powerful new arm slave models only make matters worse when world peace is at stake. Will Kaname and Sousuke face their own inner struggles in life threatening fights, will they be able to make the right decisions and change their future?
Fountain: Official Twitter account
.