A press release confirmed that the manga was written by Rikito Nakamura and illustrated by Yukiko Nozawa, The 100 Girlfriends Who Really, Really, Really, Really Love You (Kimi no Koto ga Daidaidaidaisuki na 100-nin no Kanojo), will have an anime adaptation. The statement didn't reveal a premiere date, but it did reveal the production team.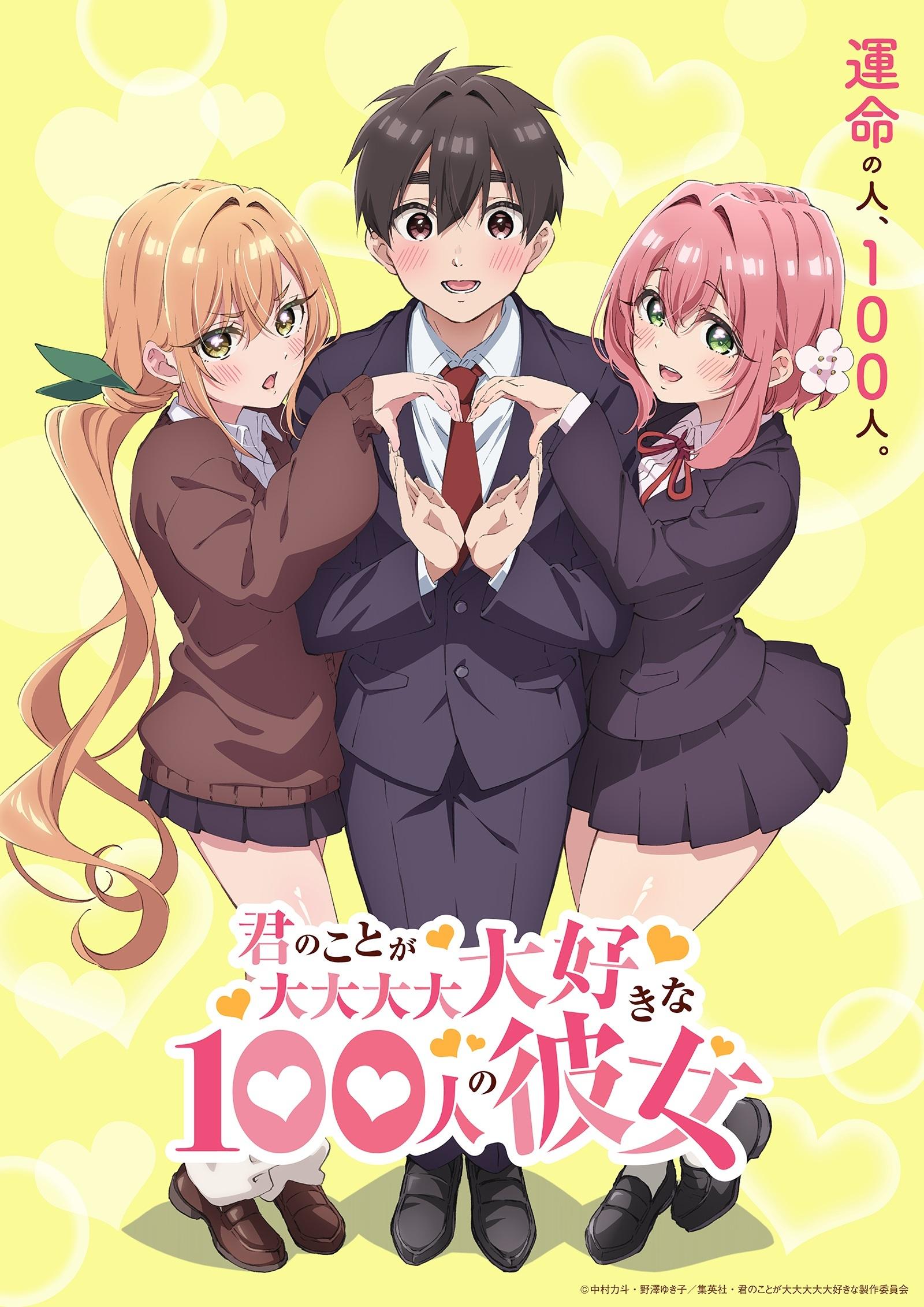 Nakamura and Nozawa began publishing the manga in Shueisha's Weekly Young Jump magazine in December 2019. The publisher will release the thirteenth compiled volume in Japan on March 17th.
voice output
Wataru Kato like Rentarou Aijou.
miyu tomita like Karane Inda.
Kaede Hondo as Hakari Hanazono.
production team
Hikaru Satou (Shokugeki no Souma, Kami no Tou: Tower of God, Lycoris Recoil) is responsible for directing the anime at the studios Bibury Animation Studios.
Takashi Aoshima (No game, no life, Himouto! Umaru-chan, Uzaki-chan wa Asobitai!) is responsible for writing and supervising the screenplays.
Akane Yano (Prima Doll, Ryuuou no Oshigoto!, Netoge no Yome wa Onnanoko ja Nai to Omotta?) is responsible for character design and animation direction.
Summary for The 100 Girlfriends Who Really, Really, Really, Really Love You
After graduating from high school, Rentarou Aijou manages to make a confession to the girl he loves. Unfortunately, he is rejected, which is his 100th consecutive rejection. After suffering heartbreak after heartbreak, he goes to a shrine to find a mate and prays in hopes of finally finding a girlfriend in high school. Suddenly, the god of the shrine appears and promises Rentarou that he will meet a hundred soulmates in high school. Though initially skeptical, Rentarou soon realizes the truth of the god's words when two of his soulmates - Hakari Hanazono and Karane Inda - confess their love to him on the same day they meet him.
However, there is one detail that the god Rentarou forgot to say: if one of his soulmates does not develop a relationship with him, they will die. Now that life and death are at stake, Rentarou decides to date all his soulmates. Rentarou has a heart big enough to share with a hundred friends and makes the most of her unexpected high school life, and the Rentarou family just keeps growing!
Spring: official page
© 野澤ゆき子 (著), 中村力斗 (原著) / SHUEISHA 集英社