The official website for the anime adaptation of the light novel series "Reborn as a Vending Machine, Now I Wander the Dungeon" by Hiru Kuma and illustrated by Itsuwa Katou just dropped a brand new promo video for the project. And guess what? The premiere date is set for July 5th in Japan!
But wait, there's more! The video also treats us to the opening theme song, "Fanfare," performed by the awesome BRADIO. I don't know about you, but I've got this song stuck in my head already!
Now, let's talk about the voice cast. We have some talented folks joining the project, including Shiki Aoki as Hyuurumi, Miyu Tomita as Shui, Kazuya Nakai as Kerioiru, Ai Kayano as Firumina, Atsushi Miyauchi as Director Bear, Daiki Yamashita as Aka, Junya Enoki as Shiro, and Takuya Eguchi as Michelle. I can't wait to hear their performances and see how they bring these characters to life!
Production team
Moving on to the production team, we've got:
Noriaki Akitaya as the director, known for their work on "Code Geass: Hangyaku no Lelouch" and "Ore wo Suki nano wa Omae dake ka yo." They'll be working their magic at Studio Gokumi and AXsiZ.
Tatsuya Takahashi, the mastermind behind "Highschool of the Dead" and "Domestic na Kanojo," is in charge of the scriptwriting and supervision.
Takahiro Sakai, handling character design and animation direction. These folks are going to make the anime shine!
Voice cast
Jun Fukuyama like hakkon.
Kaede Hondo like Lamis.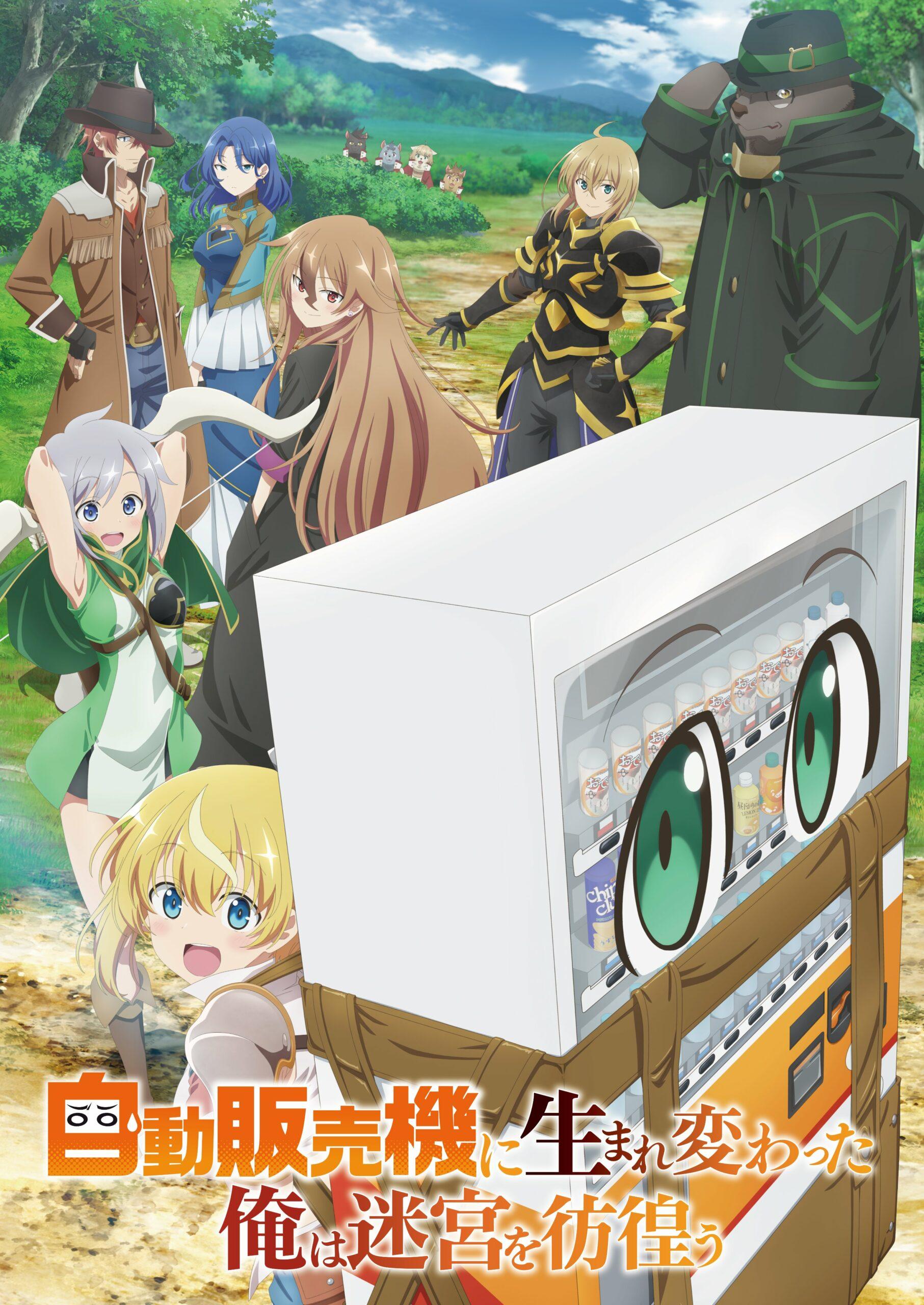 Reborn as a Vending Machine Synopsis
Now, let me give you a little sneak peek into the world of "Reborn as a Vending Machine." Picture this: a vending machine enthusiast meets an unfortunate end when, ironically, they're squashed by a vending machine. Ouch! But guess what? They get reincarnated as a vending machine in a whole new world. Talk about a twist of fate!
So, our protagonist, the vending machine named Boxxo, finds themselves in a forest filled with frogmen and other fantastical creatures. With only two products to offer, Boxxo needs coins to keep stocked, powered, and upgraded with new abilities. Lucky for them, a kind-hearted young girl rescues our mechanical friend and realizes that Boxxo is more than just a regular vending machine.
From there, Boxxo embarks on a journey, navigating the world with their limited means of communication—replaying prerecorded phrases, because, hey, they can't speak or move on their own. Along the way, they make allies and start making a name for themselves, all while trying to find their place in this strange new world.
Sounds intriguing, right? I'm totally hooked on the concept, and I can't wait to see how Boxxo's story unfolds.
A vending machine fanatic meets his death when he is ironically crushed by a vending machine. Unfortunately for him, he is reincarnated in a vending machine in another world. After resurfacing in a forest inhabited by frogmen and other monsters, and with only two products, the Boxxo vending machine needs coins to stay stocked, fed and upgraded with new abilities.

Luckily, the automaton is rescued by a young woman who quickly realizes that it is sensitive and takes it to a human settlement. Thereafter, the strange piece of machinery carves its way into the world around it, gaining numerous allies along the way despite being totally incapable of speech or movement and communicating only by playing pre-recorded phrases from the Vending machine.
Conclusion
So, mark your calendars for July 5th, grab some snacks (vending machine goodies, perhaps?), and get ready to dive into the whimsical world of "Reborn as a Vending Machine"!
Source: Comic Natalie
(c) 昼熊・KADOKAWA/「自動販売機に生まれ変わった俺は迷宮を彷徨う」製作委員会