On March 30th, the final episode of the anime adaptation of the light novels will be written by Takemach and illustrated by Tomari, Spy Classroom (Spy Kyoushitsu). However, the production reported that a special will be broadcast on April 7th, revealing a major announcement for the franchise.
While some are wondering if it will be a second season or a movie, the same production made an extreme rookie mistakebecause if we open the image in another tab and check the link, we can see that it is named "season 2' confirms the second season.
https://spyroom-anime.com/core_sys/images/main/home/Season2.jpg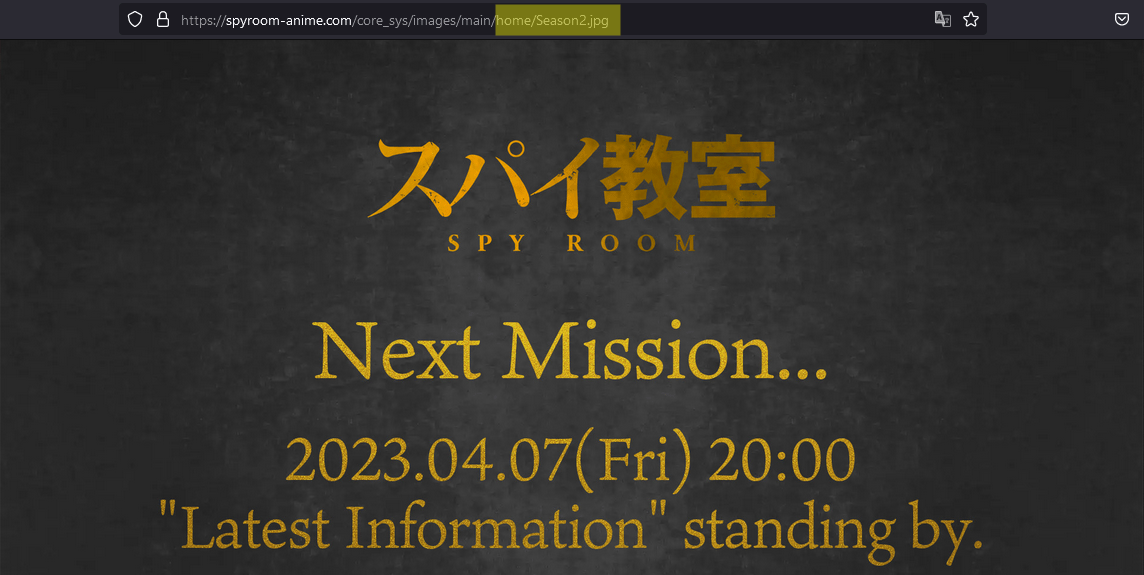 The series premiered in Japan on January 5 and had a total of twelve episodes, while the platform HIDE is responsible for sales in the West. For their part, Takemachi and Tomari began publishing the light novels through the publishing label Fujimi Fantasy Bunko from the publisher Fujimi Shōbo in January 2020. The manga adaptation of kaname seu will be published via the magazine Monthly Comics Alive from the publisher Kadokawa since May 2020.
production team
Keichiro Kawaguchi(Frame Arms Girl, Higurashi no Naku Koro ni Gou) is responsible for directing the anime at the studios feel.
sumie kinoshita (Dropout Idol Fruit Tart, Forest of Piano, Girlish Number) is responsible for character design and animation direction.
shinichi inotsume (Gangsta, PERSONA 5 the animation) is responsible for writing and supervising the screenplays.
Summary of Spy Classroom
After a terrible war devastated the general populace, world governments turned to a more salacious tactic to advance their goals: a war fought in the shadows. Lily, a beautiful white-haired girl, is a student at one of the many institutions that train young people to be skilled spies. Unfortunately, despite good grades in the written exams, he barely manages to pass the exercises.
With no real skills, his hopes of graduation are slim until he is offered a chance to join the mysterious team "Tomoshibi" and take part in an impassable mission. Excited at the prospect of working alongside the elite, Lily eagerly agrees. However, she is speechless when she arrives at Kagerou Palace and Tomoshibi's true intention and desperate situation comes to light. Along with other troublesome spies and a mysterious young man running the operation, Lily realizes this isn't the ideal sanctuary she had in mind.
Spring: otakomu
(c) 竹町・トマリ/KADOKAWA/「スパイ教室」製作委員会