This review on Tonikaku kawaiI Chapter seven contains spoilers. If you don't want to have a bad time, you better watch this episode and enjoy this review.
Chapter Seven: Journey
The trips are always illustrative. In this episode, our young protagonists climb one step further to get to know the other. On the way to see Nasa's parents, Chitose does her thing. This girl doesn't give up; He really wants to end his sister's romance, but Nasa isn't an easy rival. Nasa continues to prove what a valuable boy he is and how happy he was able to make Tsukasa even though he did not know her. Believing that knowing exactly is the first step to true love is a mistake. Humans are always an unfinished puzzle, even in constancy.
True love
There is no doubt that Nasa and Tsukasa were made for each other. The journeys go beyond the destination and the route, they form unbreakable bonds and they destroy. Chitose clearly hopes honeymoon setbacks will separate her sister from her hated brother-in-law. Traveling reveals the other side of our personality that is not used to insecurity and setbacks. We usually think we are in control. We know where we are going, we know the daily traffic and even the "setbacks" usually fall within expected standards. When we travel, this illusion disappears and we become insecure; In response, we idealize.
Honeymoons are the clear example of this idealization. Nobody can control every step that is taken, not in daily life, less in a journey. The feeling of need for complete control only shows the low tolerance for frustration and also the serious problems with anxiety that causes insecurity. Fortunately, our protagonists did not take every opportunity just to get frustrated and have unnecessary problems. Chitose failed, but it didn't end there. However, she thought ruining her sister's honeymoon was possible, for those who expect it to be vague, it would never happen.
possibility
""I was lucky enough to meet her. They say the probability is 0.0000034%. It's the Drake equation, a formula that sounds crazy. It is used to calculate the likelihood of intelligent life outside the earth. It was used to calculate the possibility of finding the love of your life and is 0.0000034%. Well, this formula doesn't have a lot of credibility, so it's not a real number. But sometimes I think it's true The moment I saw her I felt that it was fate. The logic doesn't matter. It doesn't matter that they don't understand, but I felt like I had found what I was looking for since I was born. Bernhard Riemann, with his zeta function, assumed that there was a rule for prime numbers, and mathematicians around the world have tried for 150 years to prove it. Even with gravitational waves, Einstein initially assumed they existed and discovered them 100 years later. The most scientific things in the world first appeared as premonitions and then were proven. Compared to you, I don't know anything about her, but I pretend to check that this love has been real all my life. You don't get married because you've already tasted your love, you get married to prove your love. "

pot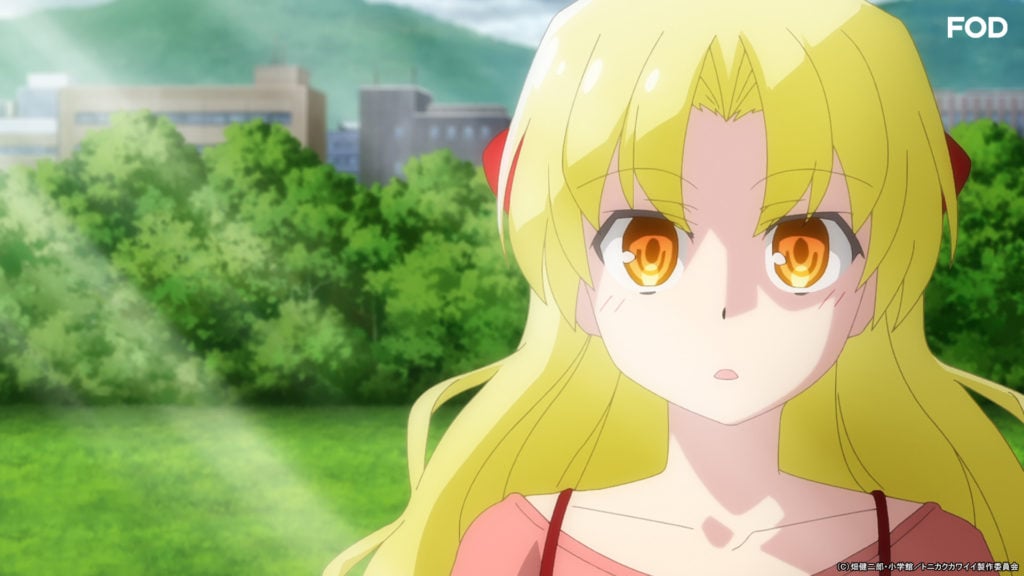 Nasa is clear that there is nothing in the world that is governed by certainty, and that knowledge is only an illusion, even that which is born of reason. It's not because we can be wrong, but because we can't see beyond the obvious. Unlike Chitose, NASA's ignorance is an advantage. If we don't know, we can be inaccurate, and this inaccuracy will keep us closer and closer to the real essence of the other. There are no prejudices, just listening carefully to the other and what is happening.
Final thoughts on Tonikaku Kawaii
With each chapter, I'm more impressed with this anime. This couple exceeds any kind of expectation. We are already a few steps closer to the end of this first season and I am absolutely certain that they will leave us speechless and speechless. With each chapter, I have more to say about the anime's content and budgets, which I conclude without further comment. The course we are taking goes beyond romance and becomes a love story with lessons not only for relationships but also for life lessons. There's the charm of Tonikaku kawaii.
.