This review on Kimi to Boku no Saigo no Senjou contains spoilers. If you haven't seen the chapters, we recommend that you do so and then go back to read the review.
Kimi zu Boku no Saigo no Senjou - Chapter 4: Battle for the vortex
With the plans changed for their next mission, the N07 squads are taking a little vacation now that they have time. Going to the casino without reaching your destination. However, when he changes location, some divination gets Iska's attention and he decides to go inside to find out when he will see Alice again.
Meanwhile, sovereignty over the Vortex is discovered following a belated report from the Zoa family of the situation. Something that makes Alice go to them to find out why and get the answer that it is not yet known if it is really a fuss. But given the situation, she decides to check it out for herself.
Mismis and her party are sent to help find a vortex of astral power. Company that is responsible for someone Eight great apostles, Nameless. Without giving specific instructions and with three shields disappearing, Iska goes to speak to him personally, but due to the difference in current rank, Nameless ignores him.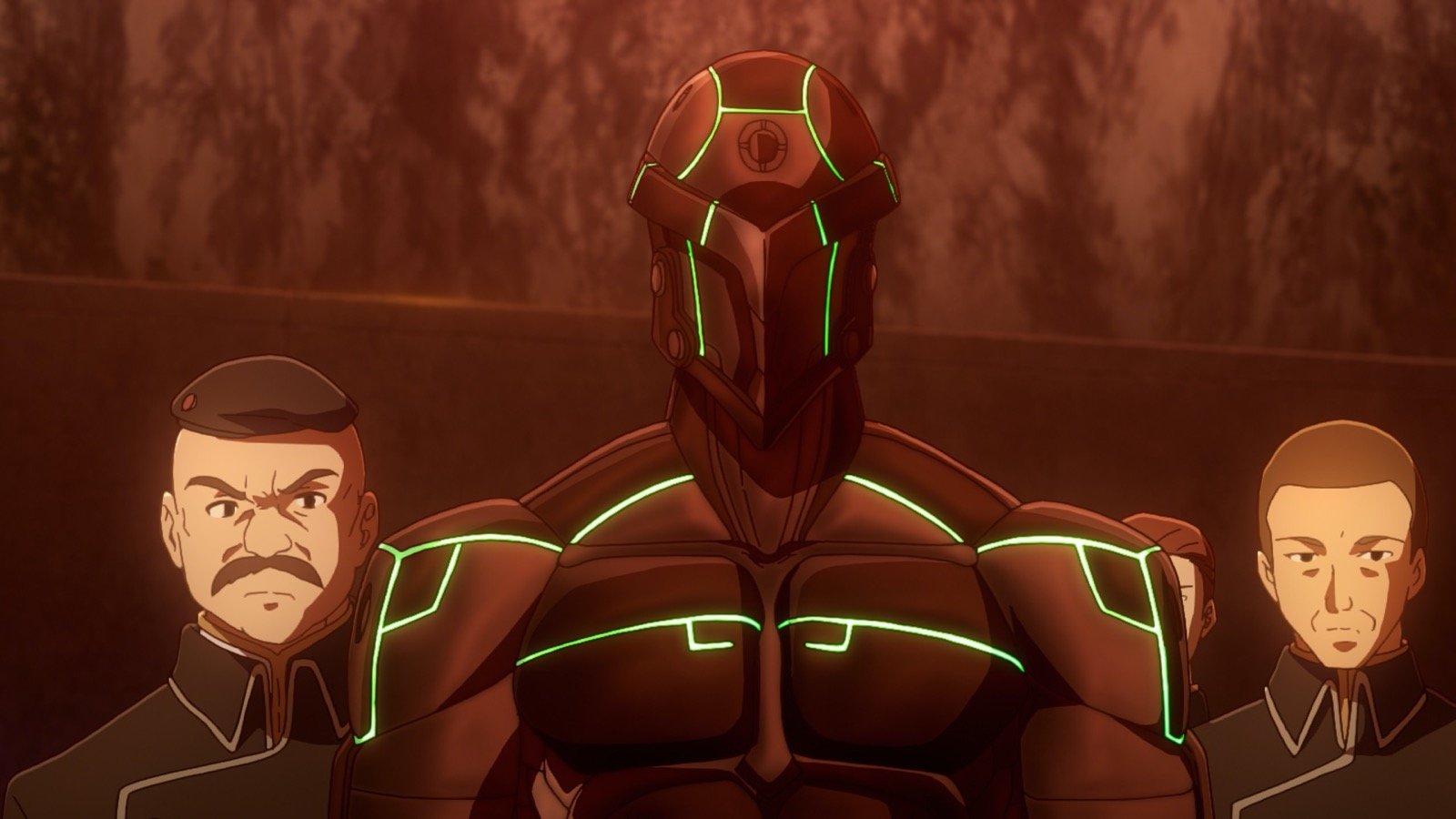 This is certainly an interesting goal
Although there are details in the development of the characters that get my attention. They either happened or it's just my imagination. However, I won't deny that there are other details in the protagonists' relationship that are frustrating to see. For example the whole scene in the casino in Kimi to Boku no Saigo no Senjou - Chapter 4.
In all honesty, at no point in this scene do I see any sense that it's a coincidence to be there. It felt completely forced. After all, neither of the two protagonists is interested in betting, not even their companions have solid foundations to be there. Things would change if Captain Mismis were very fond of gambling.
I think a better option for "meeting" (although they never actually met) could have been different. Jhin and Iska could have used the N07 team's short vacation to find out more about everything that happened in the year he was in prison. Or they could all go straight to an artifact, weapon, and / or armor sale together, this time with Nene in mind.
Of course, in my opinion, the "fortune-telling" of both protagonists gave the necessary note so that their proximity would not feel so forced. Well, even if the casino scene had never existed and had instead been one of the ones I mentioned, both Iska and Alice would end up having their futures read aloud. Show that they were both pretty close, and of course keep the ones they didn't meet.
In general, the casino scene is what I consider to be the most unnecessary or forced in the plot. From the point of view of both protagonists. The only thing I could take advantage of is that Nene the 'Witch of the ice disaster' without knowing it. All of this imagines that in the future they will be love rivals.
Speaking of love, I won't deny that I've gradually started to bring Mismis and Jhin together for a possible future relationship. I only vaguely imagined it at first, but after the captain's fan service and she mentioned Jhin as the one in charge, I believe the opportunity for them to strengthen their relationship is no longer an easy notion.
Incidentally, the lady who read the assets to the protagonists seemed suspicious to me. To the point that I would love to see her again in the future, even for a simple camea. Posing as an additional character, but more important than it initially seems for the plot.
Details from Kimi to Boku no Saigo no Senjou - Chapter 4
To be honest, I haven't seen much progress in the plot of either Kimi to Boku no Saigo no Senjou. Between the casino scene and the few information and examples of his mission looking for the vortex, I felt no progress, at least not important. That on the side of the empire, on the side of sovereignty, is something else. You mentioned the three royal lines that predominate in sovereignty, the Hydra, Lou and Zoa families, which seem to have conflicts between them to show which are the "strongest" ones. Aside from the vortex itself, which seems very important to astral mages, especially the royal lines.
Of the characters, the most interesting one is in Kimi for Boku no Saigo no Senjou - Chapter 4 is nameless because he is one of the Eight great apostles. A character that I believe tried to make "mysterious" but I don't think they were successful. I'm not just talking about the animated adaptation. At least for now.
In terms of animation, I have to salute them for the great fan service they have shown with Mismis. It was of excellent quality. Maybe a bit of "censorship", but even if it was really censorship I think the fan service was perfect. Other than that, the animation was average and acceptable most of the time. But with little detail in a few moments, especially when the shot is from a perspective that is very far from the characters.
This "review" may have been brief, but the truth is, I don't feel like there is a very notable moment Kimi to Boku no Saigo no Senjou - Chapter 4. In fact, I have the feeling that there were adapted scenes and moments that could be left out and nothing happened. For example Risya's conference with the Eight great apostles;; as well as the flashback showing the N07 roster two weeks prior to visiting the casino; the change of mission for the N07 squad.
It's too early to be sure, but I'm starting to think about the option that the adjustment doesn't really know where to focus. If you also take into account that previous episodes. Showing scenes that may have been left out while others lack the general focus to make them shine.
I don't mean that I'm a bad fit. Personally, I don't feel like I'm walking the way I would have liked, but overall the adjustment is quite acceptable.
.