On the official page for the film Sword Art Online: Progressive - Hoshi Naki Yoru no Aria (Progressive - aria of a starless night) a new trailer starring Asuna and Mito has been released, the second being an original character created for this production. The video shows the friendship relationship that both form within the world of the franchise.
In an upcoming collaboration Sword art online will take the city of Mito from October 29th to December 26th. The anime franchise will work with local cafes to offer special themed items, hotels will install franchise-themed rooms, and characters will appear at Mito train station with advertising from the city featuring the character they play Inori minase. There will be special products and items all over the city, such as "Sword Natto Online".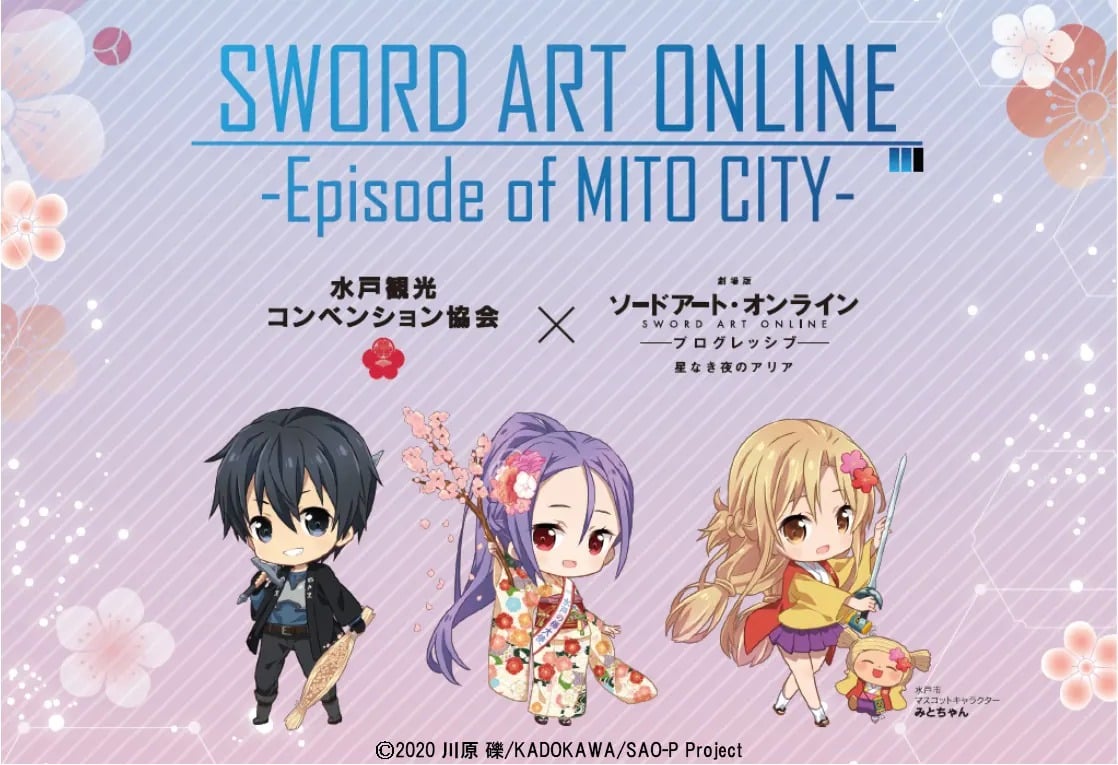 The film is scheduled to premiere in Japanese cinemas during the next October 30th in Japan Funimation it will distribute it in Latin America on a date to be confirmed. On the other hand, Reki kawahara and Abec started with the publication of the light novels Sword Art Online: Progressive in October 2012 through the publisher's label Dengeki Bunko from the publisher Kadokawa.
It is worth noting that the video game for smartphones Sword Art Online: Integral Factor is available in the catalog of QooApp At this link.
Cast
Yoshitsugu Matsuoka as Kazuto Kirigaya / Kirito.
Haruka Tomatsu as Asuna Yuuki / Asuna.
Inori minase as a myth, an original character.
Production team
Ayako Kawano (High School Fleet, Nanatsu no Taizai: Prisoners of the Sky) is responsible for directing the feature film in the studios A-1 pictures.
Kento Toya (Nanatsu no Taizai: Imashime no Fukkatsu, Nanbaka) is responsible for character design.
Yuki kajiura (Boku dake ga Inai Machi, Fate / stay night Film: Heaven's Feel, Kara no Kyoukai, Kimetsu no Yaiba) is responsible for composing the soundtrack.
Sword Art Online: Progressive Synopsis
"There is no way to beat this game. The only difference is when and where you die… "A month has passed since Akihiko Kayaba's fatal game began, and the number of corpses continues to rise. Two thousand players have already died. Kirito and Asuna are two very different people, but they both want to fight alone. However, they feel drawn to face internal and external challenges together. With the entire virtual world they live in was created as a death trap, Sword Art Online's surviving players begin to despair, and desperation makes them dangerous for loners like Kirito and Asuna. When it becomes clear that loneliness equates to suicide, can both of you overcome their differences in order to find the strength to believe in each other and thus survive? Sword Art Online: Progressive is a new version of the Sword Art Online story that begins at the beginning of Kirito's and Asuna's epic adventure in the first level of the deadly world of Aincrad!
Source: Comic Natalie
© 2020 原 礫 / KADOKAWA / SAO-P project